As part of the latest course I'm doing with the wonderful Pip Lincolne, my day-four 'homework' involved some paper play. It's all about freeing up the creative spirit, experimenting, and having fun. And I wanted to share my 'masterpiece' here.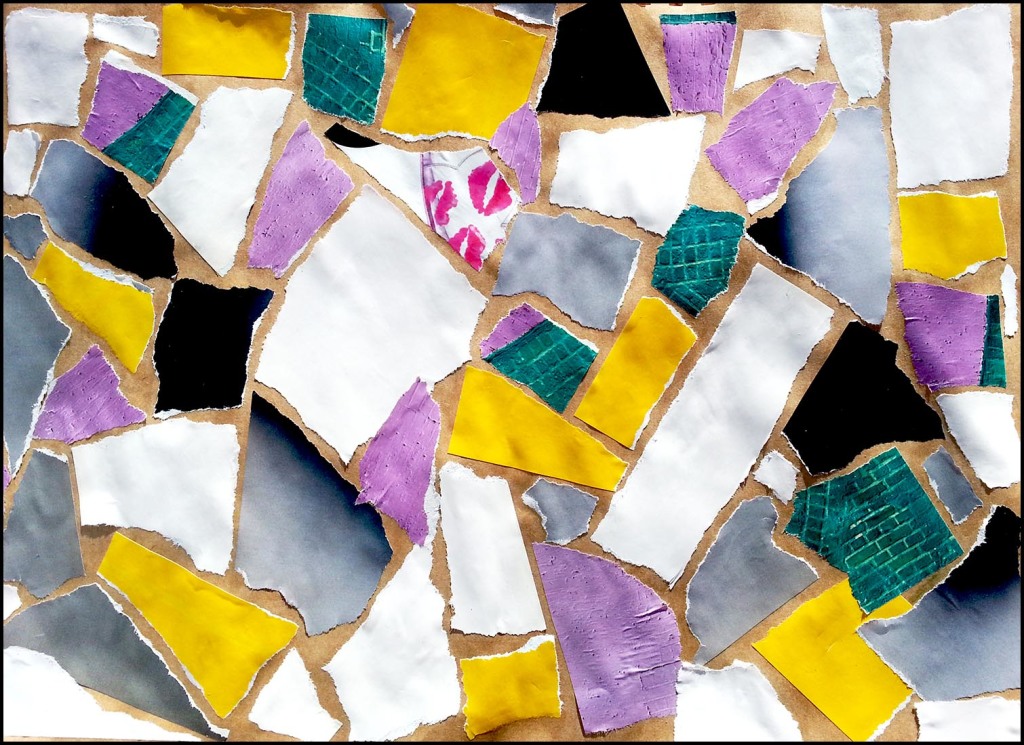 While I was completing this exercise, I felt my mind open up, expand, relax, and I even forgot about my cup of tea because I was so engrossed. I love how creativity works in that way, especially when working on something that you wouldn't normally do. I never forget tea!
I was in a state of 'flow' listening to Edith Piaf while outside the snow fell thick and fast. I had the window open but the sun was so bright I didn't feel cold ( I was also wearing a huge scarf.)
I thought of driving fast on the motorway with the windows down and the music up loud, not caring about fuel consumption or aerodynamic efficiencies or if my hair would get into a tangle. I was completely tuned into a different frequency. And I liked it.
The colours I've used came to me at random, ripped haphazardly from free magazines.
I like the white and grey with tips and flecks of black and the strange, blueish mauve (or is it puce?) which borders the bright green in parts, creating brick walls of emerald. I thought of icebergs and saw rabbits, frogs and dinosaurs in amongst these shapes.
I liked the mix of straight, cut edges with the ripped and ragged edges. I learnt about myself.
I'm calling it 'Snowstorm' because of the colours and the predominance of white, and how snow turns to grey when it's been walked on and sometimes black as the earth underneath is uncovered and that blueish mauve tint it gets as the afternoon dusk drowns out the light.
But let's not talk about the yellow! And the 'lips' pattern just sneaked in. It was white on the other side...
To find out the full details of this exercise and the thinking behind it, you'll have to sign up to the next intake of Pip's Inspiration Information course.
It'll be so worth your while if you do.