Last night I dreamt I went to Lumb Bank again... no actually, I really did.
I was trying to photograph the sunset before it got too dark, then chatting in the kitchen with the others in the group. We were doing the dishes together, leaning over the sink, and then I looked out of the window and it had started snowing. The roads were flat instead of steep. The leaves were gone. Everything was slightly altered and different, but also the same...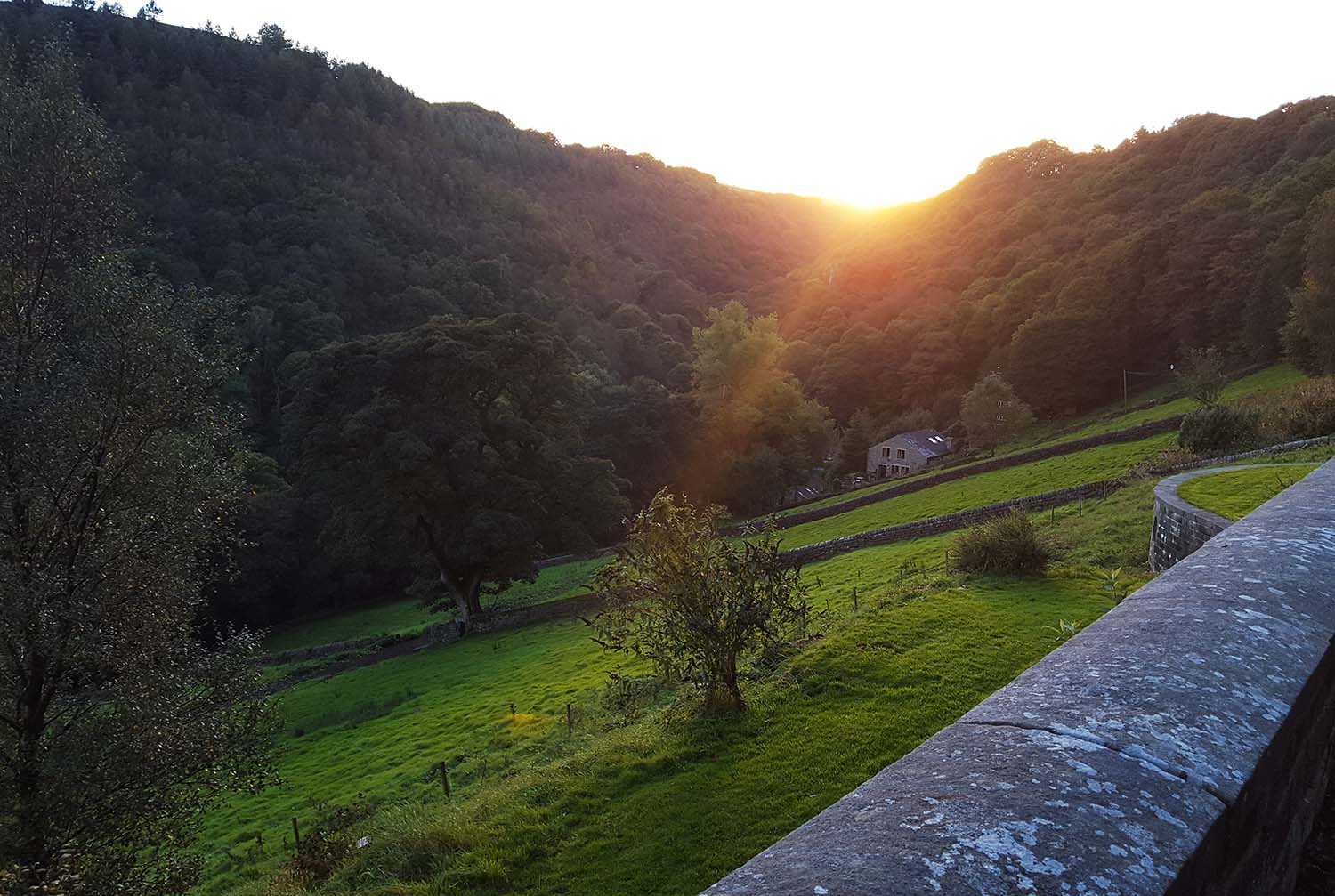 It's only two weeks since I returned and it feels like a dream, like the dream I just had, but also so close and vivid in my head, like I'm squeezing it tighter and tighter for more inspiration.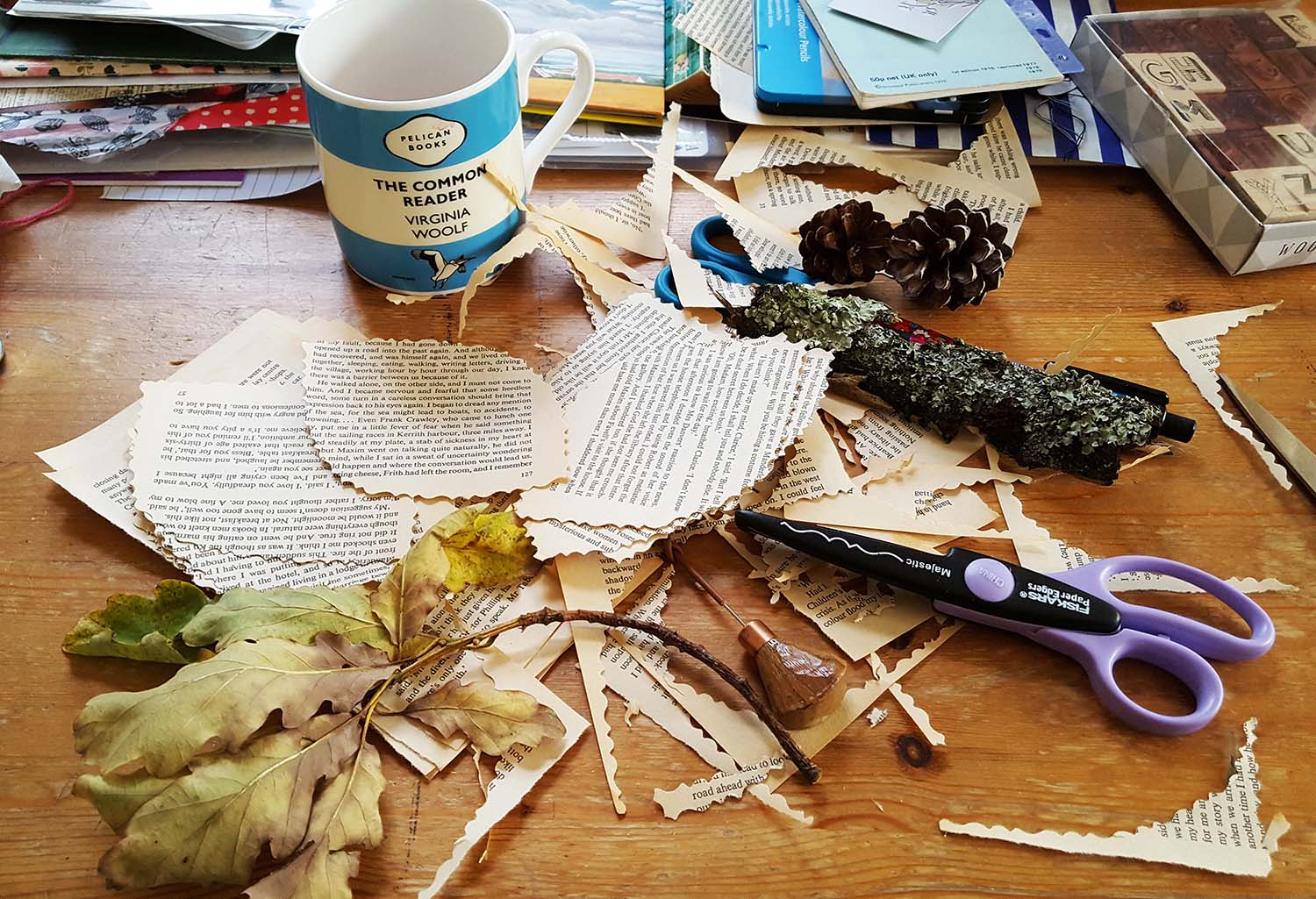 The course I took was a mix of book art and poetry, both tutors (Rachel Hazell, travelling book-binder and Stevie Ronnie, poet and artist) working hard to ensure the two disciplines meshed perfectly.
We had been tasked with writing a short poem on our first night, inspired by the 'poetry fortune teller' that Stevie came up with (my 'poetry prescription' was to write a 7-line poem featuring the word 'spinning top' and the colour silver).
The next morning was about making miniature books from a single piece of A4 paper, and filling them quickly with words or just the repetition of the word 'word' or 'text'. I used my simple 7-line poem for some of mine:
She spun/ silver in the night,/ her hair splayed/out; skate-blades/chiseling ice/ faster than rain off a/ spinning top
Next we got our scalpels out to cut windows, doors, mouths, secret compartments and pop-ups in our paper books (best viewed from above I think). It was starting to feel a bit magical!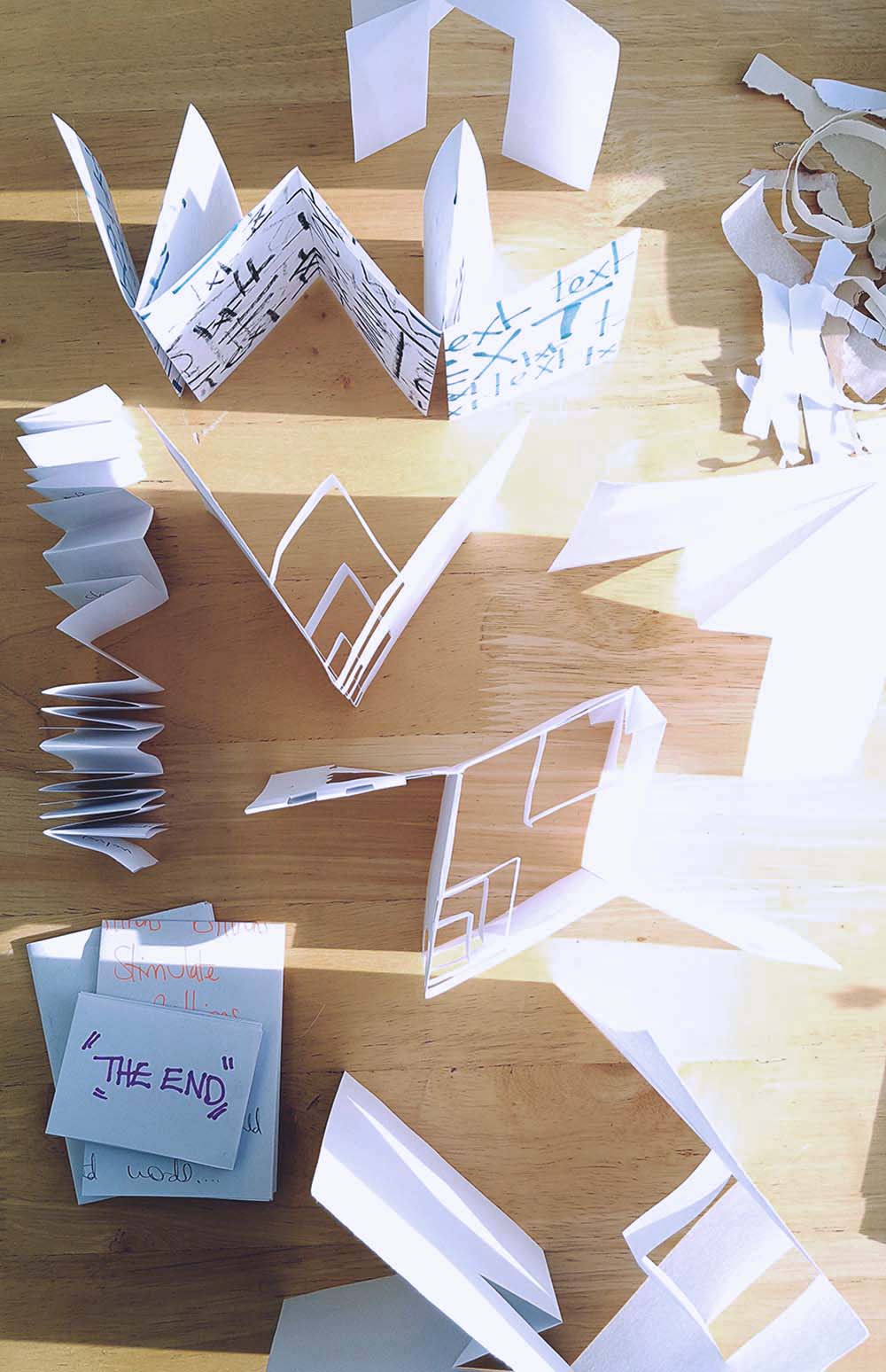 On our second day of book art-ing, we got to use 'the good paper', and make bigger books with more detailed covers.
We spent some time using different methods of lettering and typography to decorate our paper, techniques like: stenciling, calligraphy, letraset, cut-out words or phrases from books and magazines, handwriting, painting and stamping.
It was my first time using a calligraphy pen (real name: pilot parallel pen) and it was A-MA-ZING.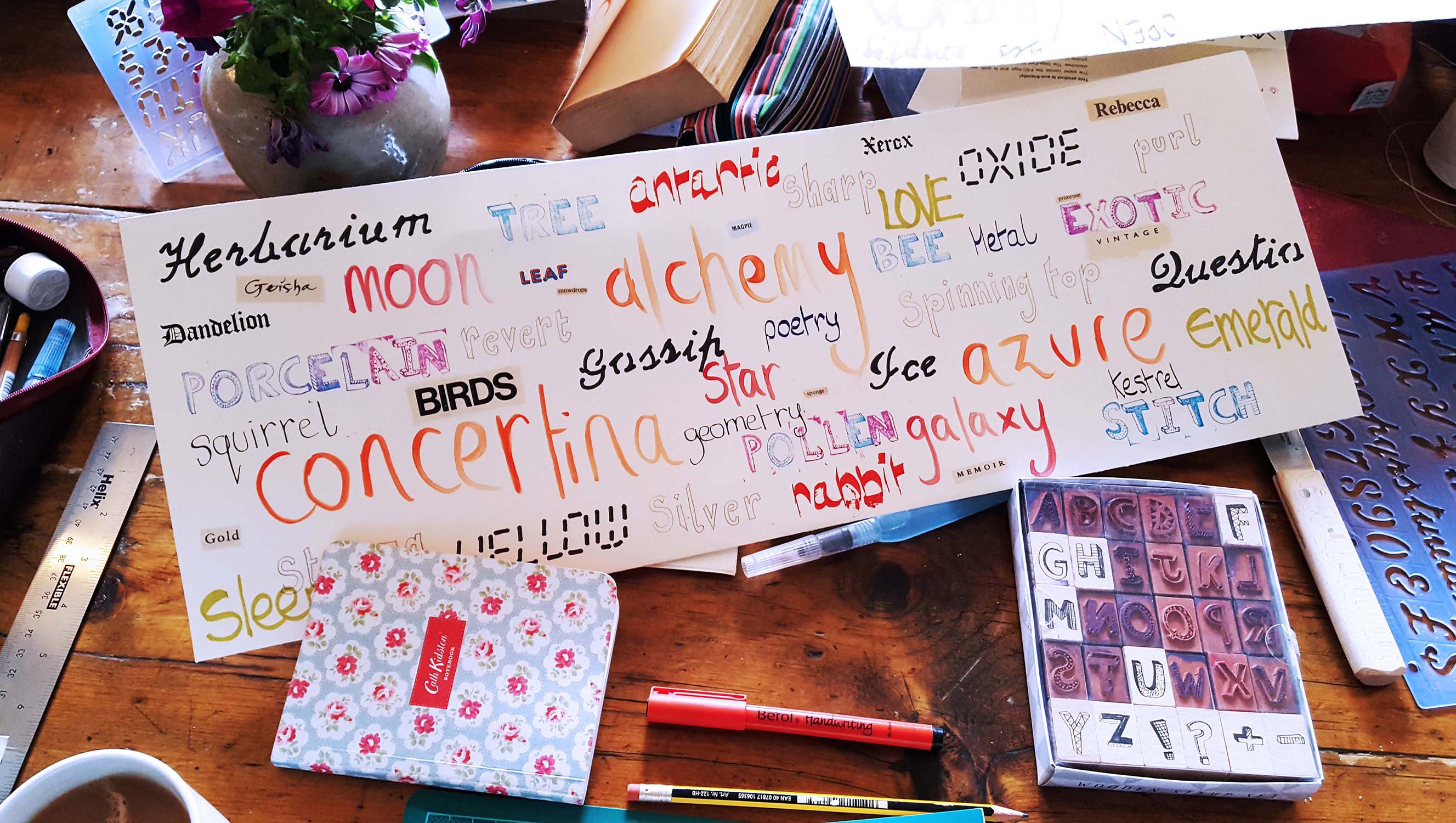 We were working quickly and I used words that had popped up in our conversations and our poetry workshop on the second morning, as well as words connected with guest speaker Amy Shelton's work highlighting the plight of honey bees. (It was a revelation to find out that pollen comes in so many different colours - red, blue, green, yellow - many more than I had imagined.)
Placing the words at random created new phrases based on each word's proximity to another. I loved these new 'concepts' that I feel will definitely need to be exploited further:
Pollen Rabbit

Sleep Stanza

Porcelain Squirrel

Geisha Moon

Xerox Love

Kestrel Stitch

Star Geometry
Wow. So interesting. I would never have thought of these myself.
Later that afternoon I spent some time making a mini-book of my own imagining, to help reinforce the binding technique.
I used scraps of paper and cut-out shapes I'd saved in a tin from hole punches I used to have: stars, flowers, hearts and birds - I wish I still had them.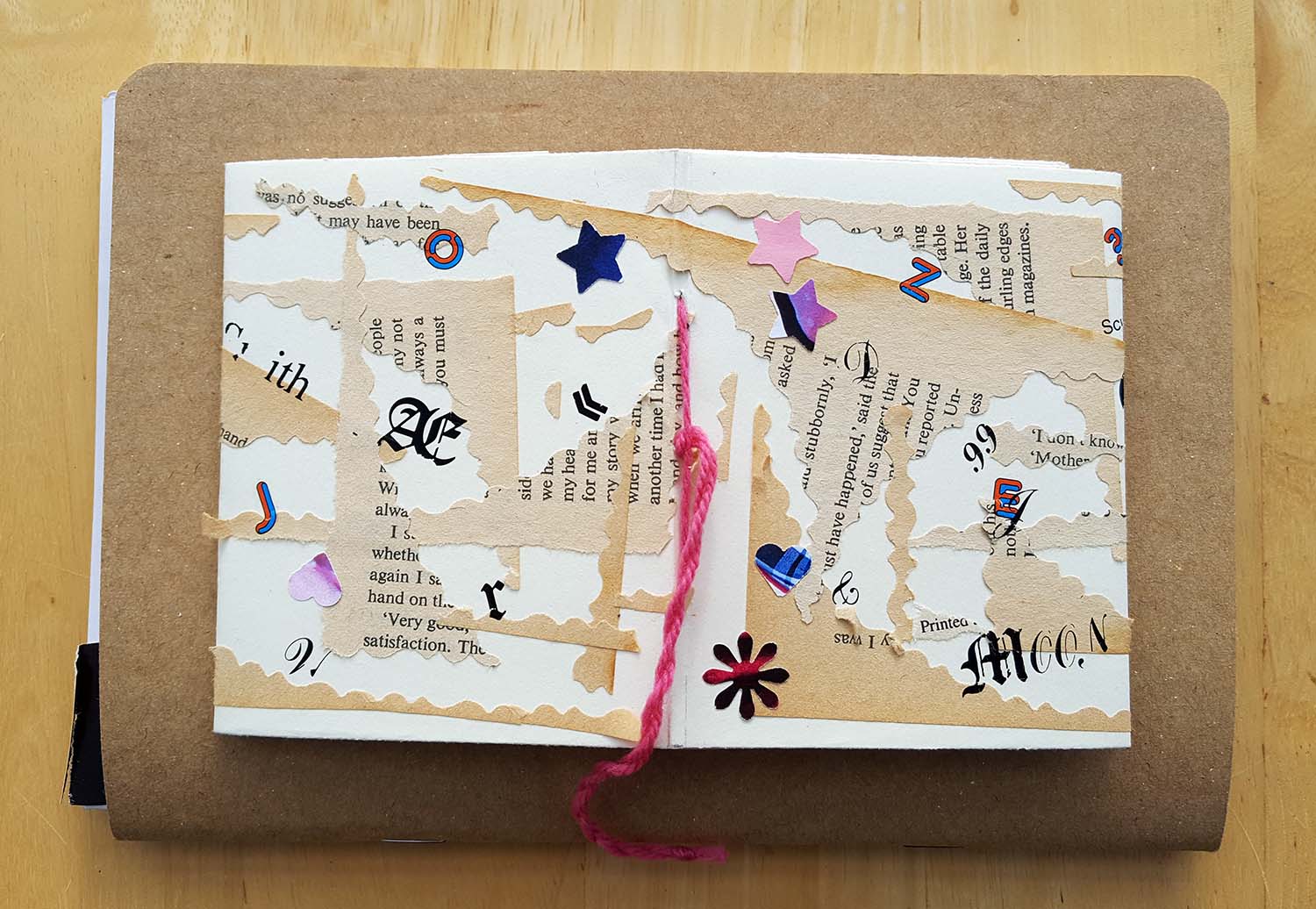 I also experienced a big revelation while on the course: that I need to use textiles much more in my art. All my art as well as any book art!
I didn't want to leave without incorporating some textile detail into a book I'd made, so I stitched up some tea-steam that became the 'tea ghosts' of Ted Hughes and Sylvia Plath on the reverse. (I also wrote about visiting Sylvia Plath's grave in nearby Heptonstall.)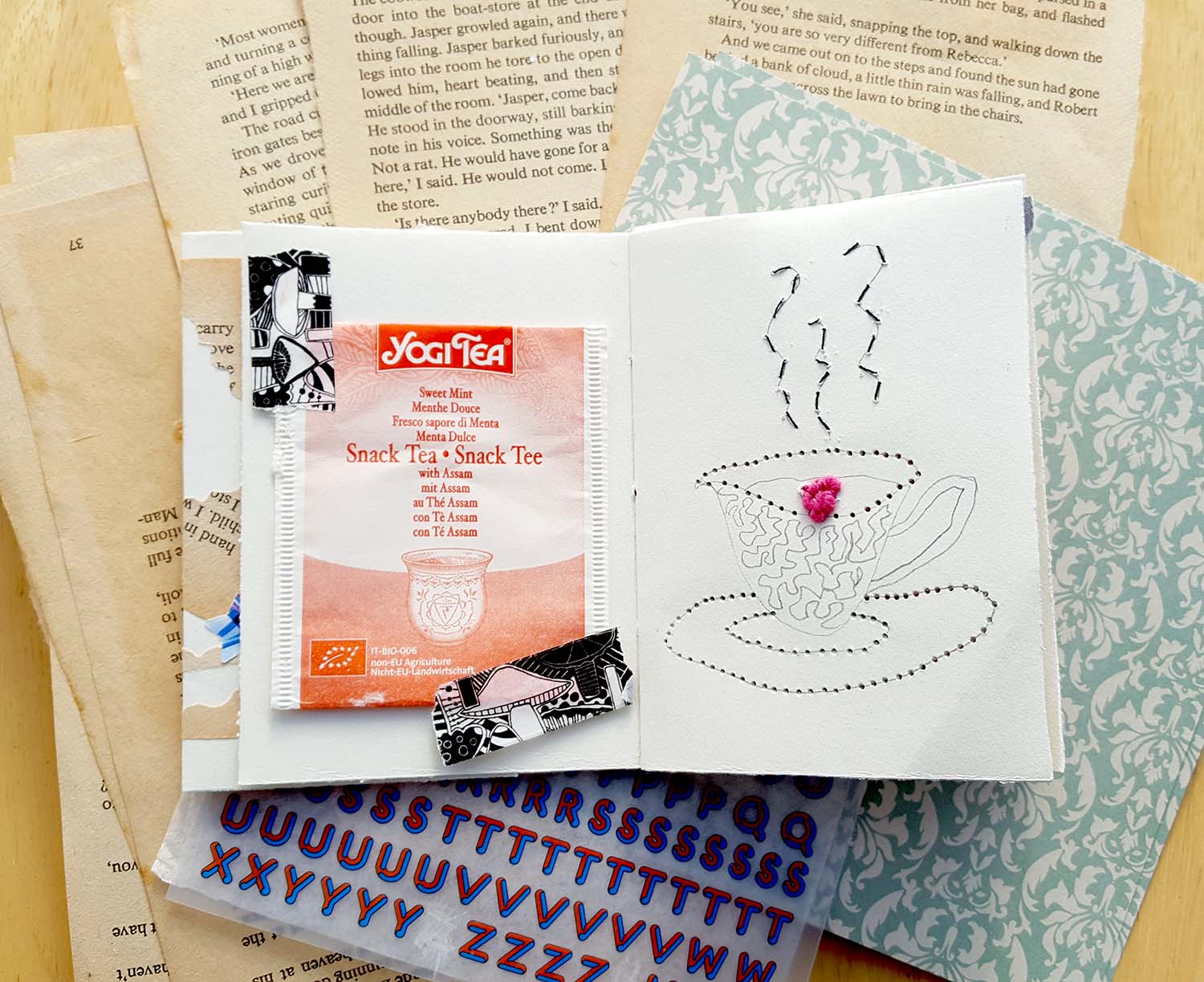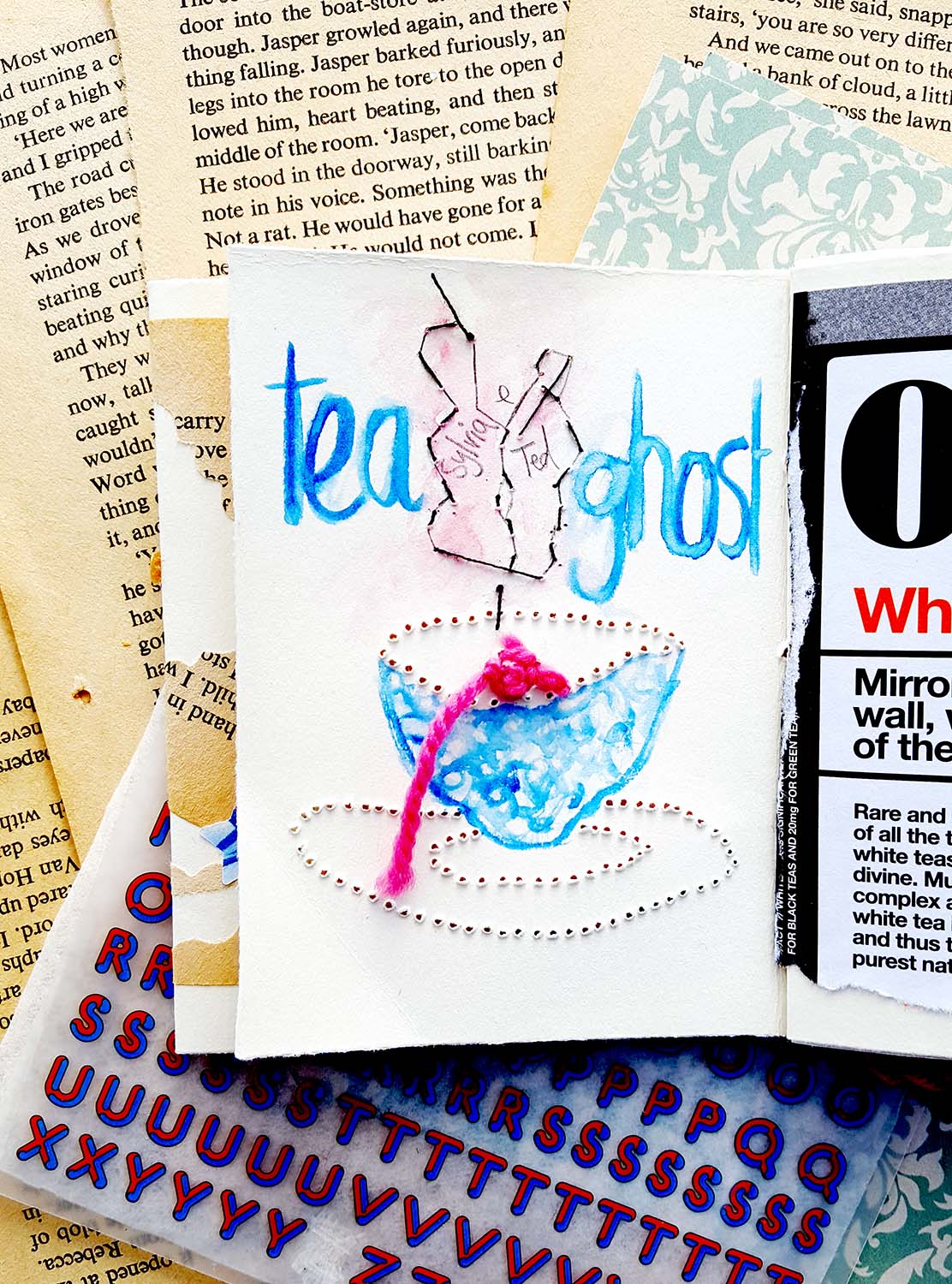 At first I wasn't going to invest in the tools of the book-making trade, because I wasn't sure if making books was going to be a big thing for me, or much more than an occasional hobby. As the course progressed though I found there was something quite magical about being in that space, with that group of people, and having the opportunity to buy the tools I was using to learn with.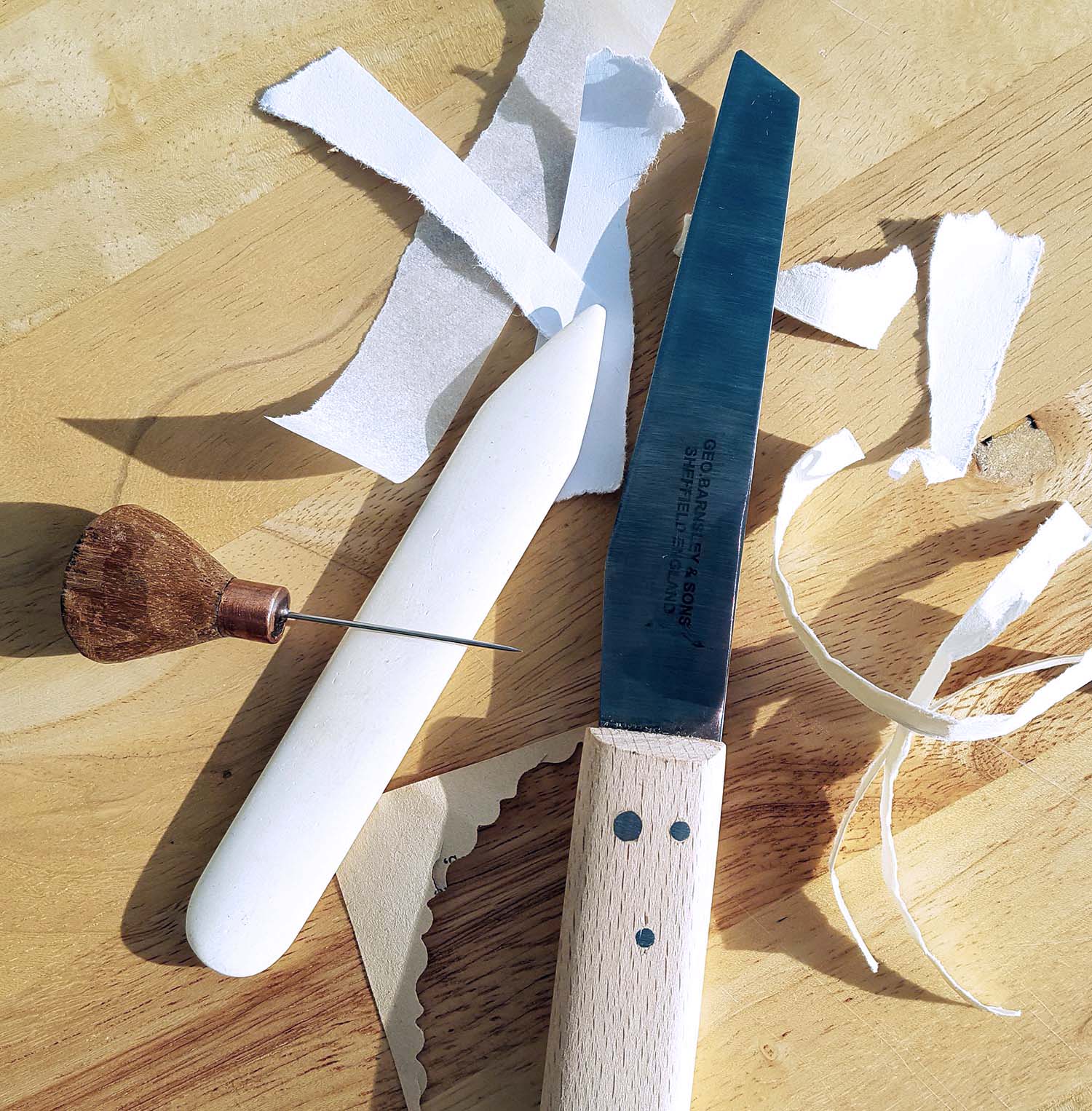 When I saw Rachel's stash of supplies laid out in the barn for sale, I knew I would be making more books and that I needed these tools: the bone-folder, the awl, the paper knife.
And then I had to make another book - from scratch, by myself (OK, with a little help from Rachel).
I hand-stitched 'Wabi-Sabi' on the front, some of it in low light on our last night so I missed a stitch, but hey, wabi-sabi.
The wool I used cost £1 from Standard Goods at Hebble End Studios in Hebden Bridge (creative capital of West Yorkshire?!)
I love the texture and the colour which matches the grey tinge of the paper. I might tie beads onto the ends of the strands I've used to bind the book.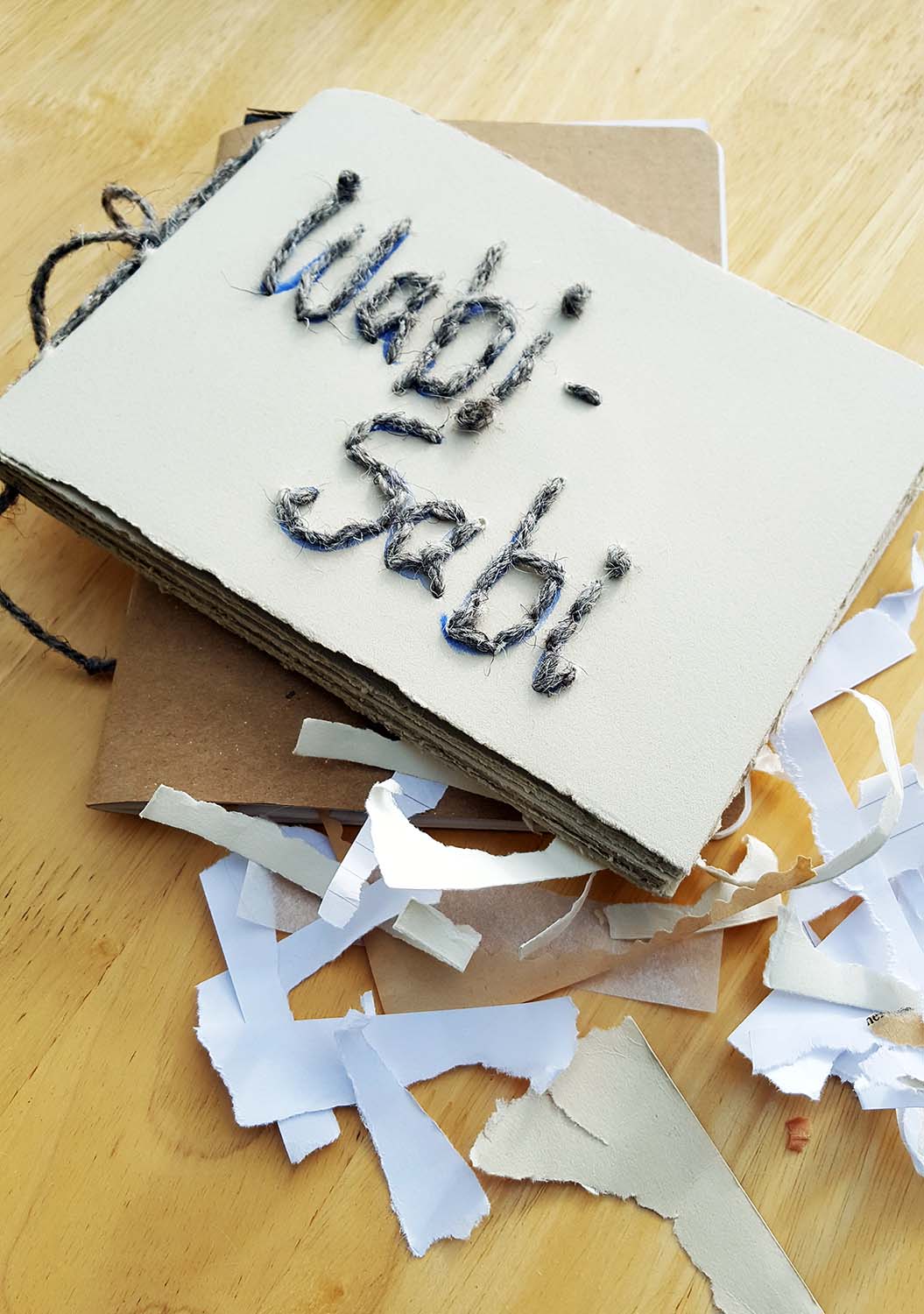 Finally, part of the tradition on an Arvon retreat is to contribute to an anthology of work that everyone on the course gets a copy of to take home.
Playing to the themes of the course - and the time of year - we were tasked instead with creating a 'leaf anthology' between us - our individual artistic interpretation of a leaf with words or poetry - x 17 copies!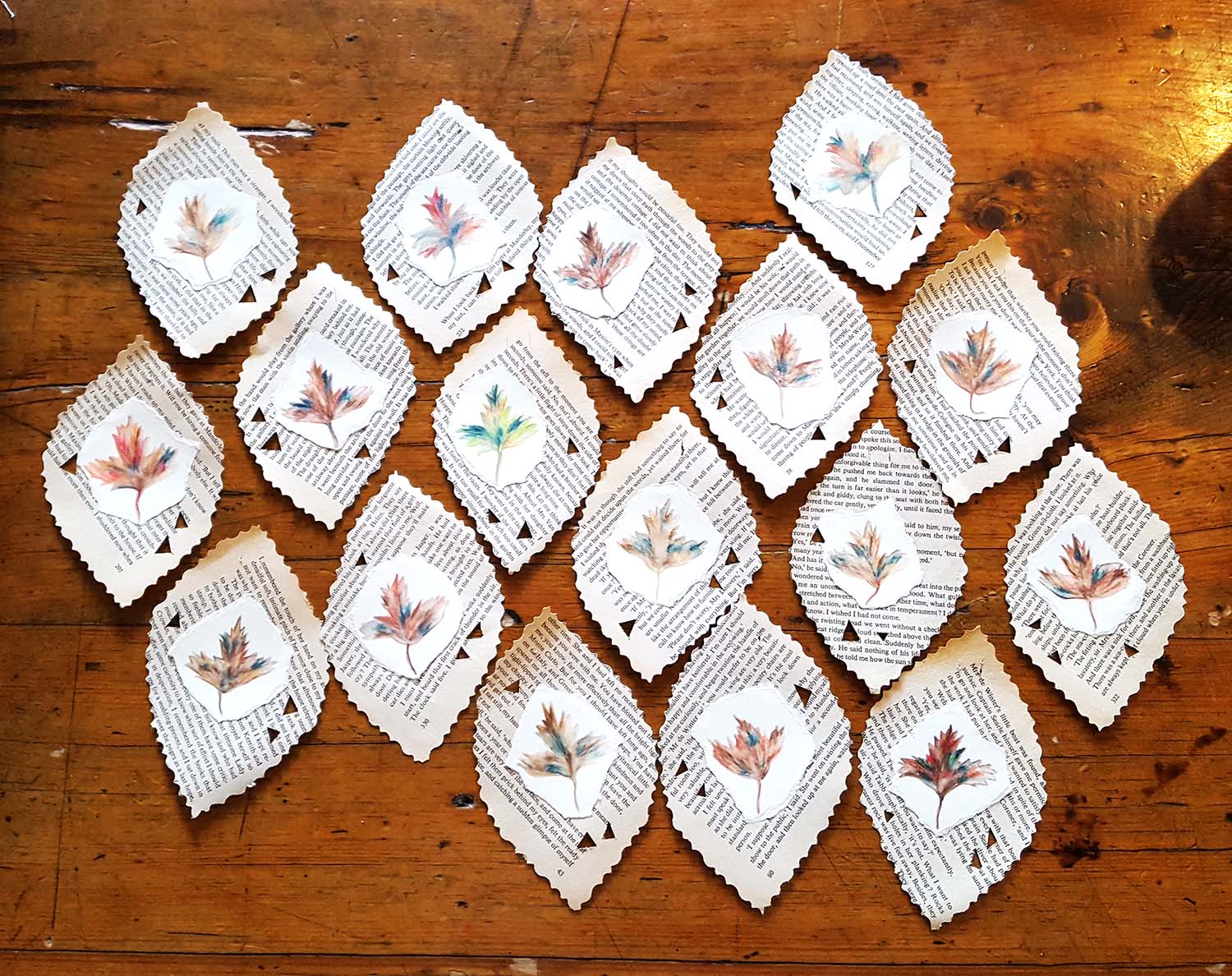 It seemed fitting for me to use pages from my aged copy of Daphne du Maurier's 'Rebecca', and make art on the leaf: BOOK + ART.
I cut out my leaf shapes then used watercolour pencils to draw an autumn leaf.
I was surprised when everyone commented on and wanted the green one, because I thought it turned out looking more like a pineapple or a palm than a leaf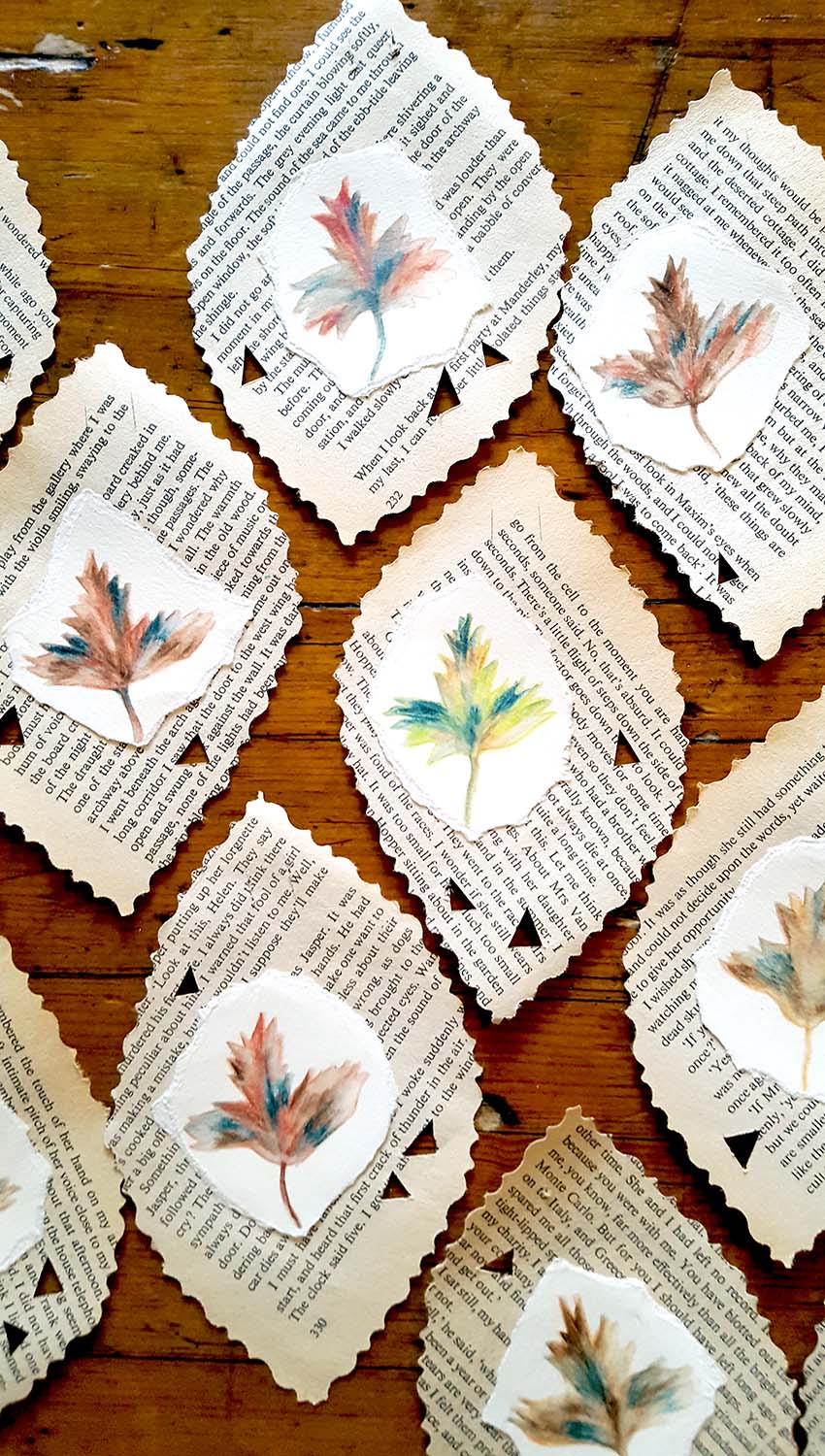 On the back of each I wrote the Japanese word KOMOREBI in gold pen, from Lost in Translation by Ella Frances Sanders (one of my favourite books):
The sunlight that filters through the leaves of the trees
I cut out little triangles to reinforce the idea of light slipping through each leaf and it felt like the perfect statement from me to my fellow book artists.
Let the sunlight filter through you. Find your unique path of light.
When we piled our leaves together, a length of gold wire at the ready so we could each construct our leaf -anthology garland when we got home, I was blown away (sorry) by how individual and intricate each leaf was. I've never had a leaf-anthology before and none will be as perfect as the one I've got.
What lovely memories I have from my week of Book Art and poetry at Lumb Bank.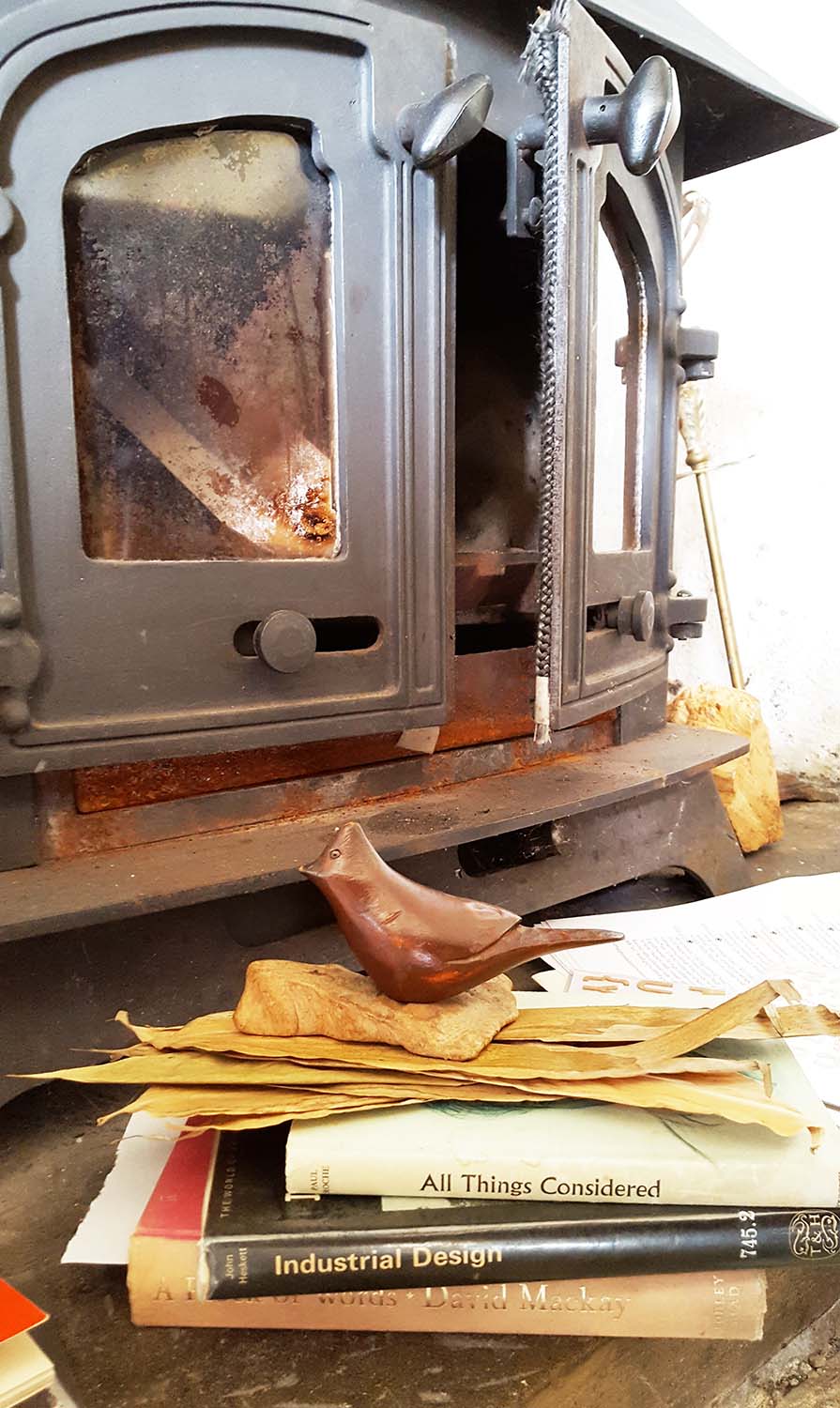 More about the poetry in another post, meanwhile check out Rachel's post to see the garland gifted to Arvon, hanging by the fireplace.