Once the snow began to fall at the weekend, I knew I'd be staying in to catch up on some scrapbooking. I'm part of the Get Messy Art Journal group which I love, with 'seasons' of inspiration and new prompts to work to each week. The last season finished at Christmas and was centred around Magic. I loved that season so much, but didn't manage to create pages each week because, well, Christmas.
Sometimes it's cool to go 'off-piste' though, and so I found myself starting the year with an abundance of gathered images and bits and bobs that I haven't yet had a chance to use.
Many of these 'gatherings' are ripped from local exhibition and art centre programmes, flyers or just the funky clothing labels that brands use to sell their wares.
These are the things that I collect to use in my scrapbook. These are the things that I struggle to discard. These are the things that I preserve.
I also think the terms 'scrapbook' and 'art journal' are pretty interchangeable, but with the exception of one page, I don't tend to write over/on my scrapbook pages.
Some of them more closely resemble collage, but for me my scrapbook is a place where anything goes and I don't work to themes.
Ready?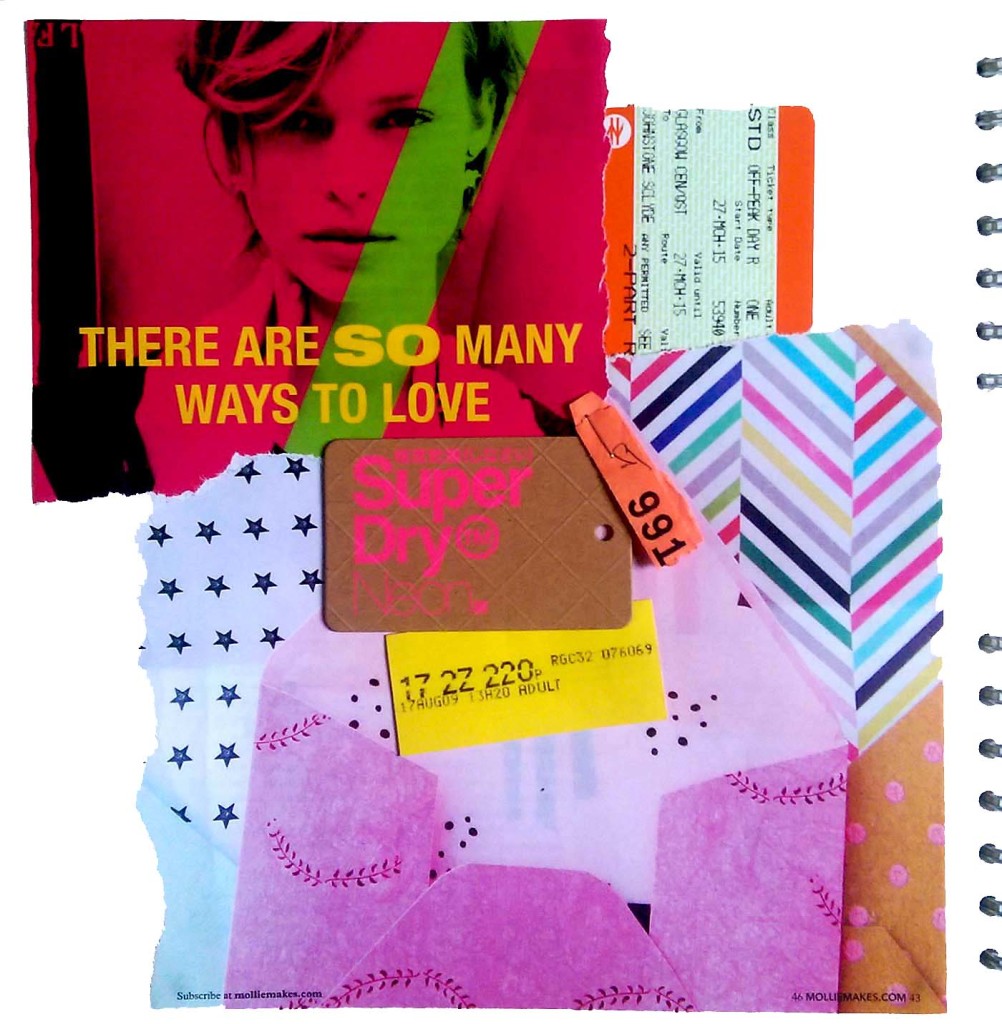 I love the cacophony of colour, angles and pattern here. There's a train ticket and maybe a foreign metro ticket and a dry cleaning stub here. It all jigsaws happily together.
(It wasn't meant to be, but is that green stripe a subconscious nod to the imitable Bowie?)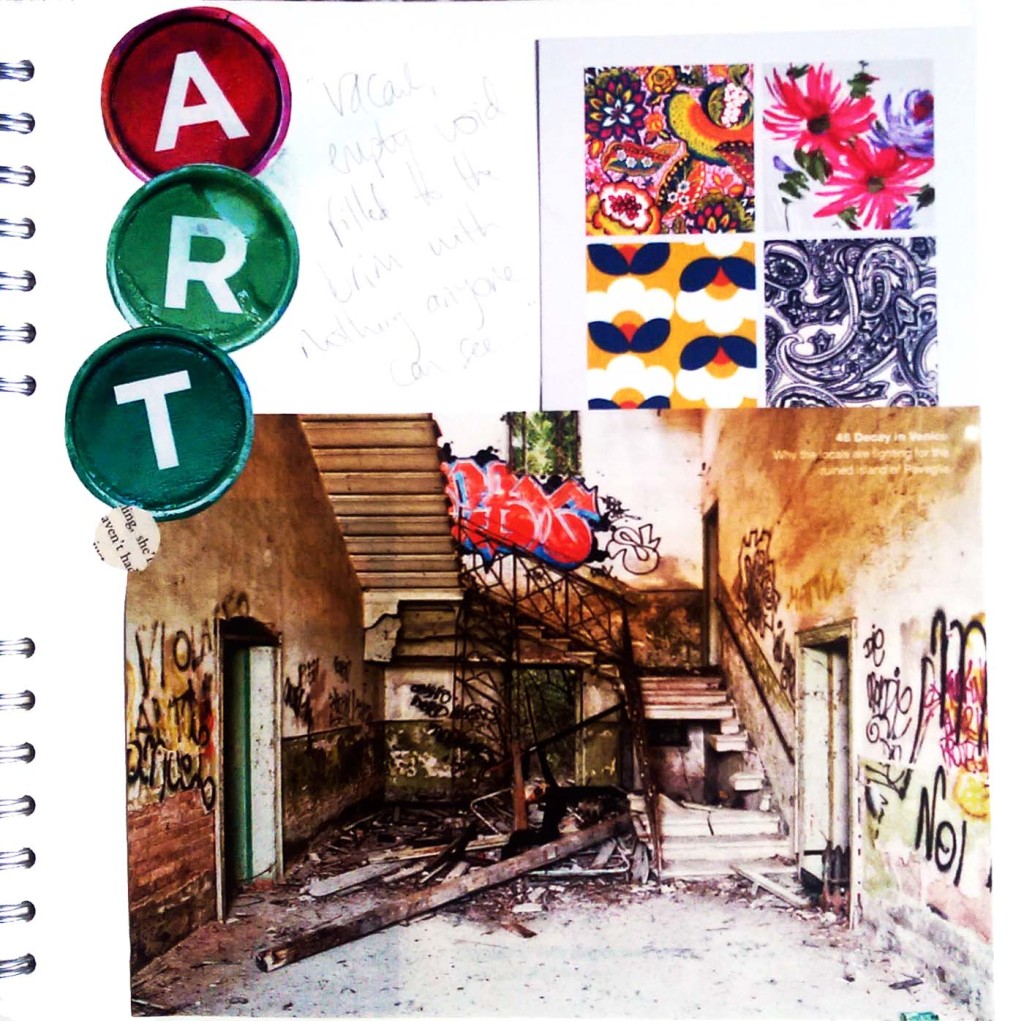 You can't read my hand-written addition in this image, but it says:
Vacant empty void filled to the brim with nothing anyone can see."
The image of dereliction that I've used shows the artful decay of a small island near Venice - Poveglia.
Its story intrigued me, especially the idea of teenagers using the island as an escape from the watchful eye of parental control; a modern-day, urban, Italian, 'Lord of the Flies' experience, with latent creative influences. I hope it can be turned into something good for the community.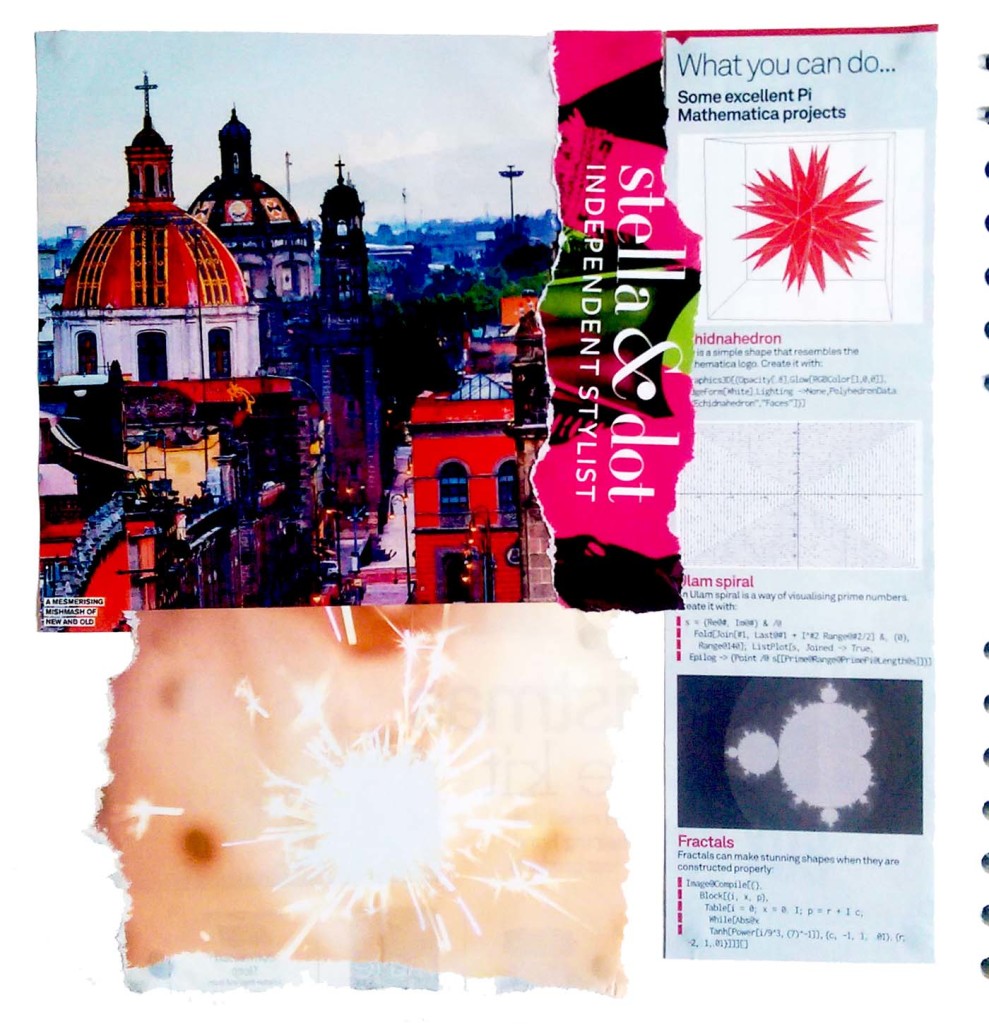 I love a skyline view of a European city, and although I'm not sure where this is, it got me straight away with its blend of colour and architecture, especially after my recent trip to Krakow.
Fractals meanwhile have made their way into my sphere of awareness lately, and I love how random mathematical data can create such beautiful imagery and pattern when represented in a visual way. They also remind me of fireworks.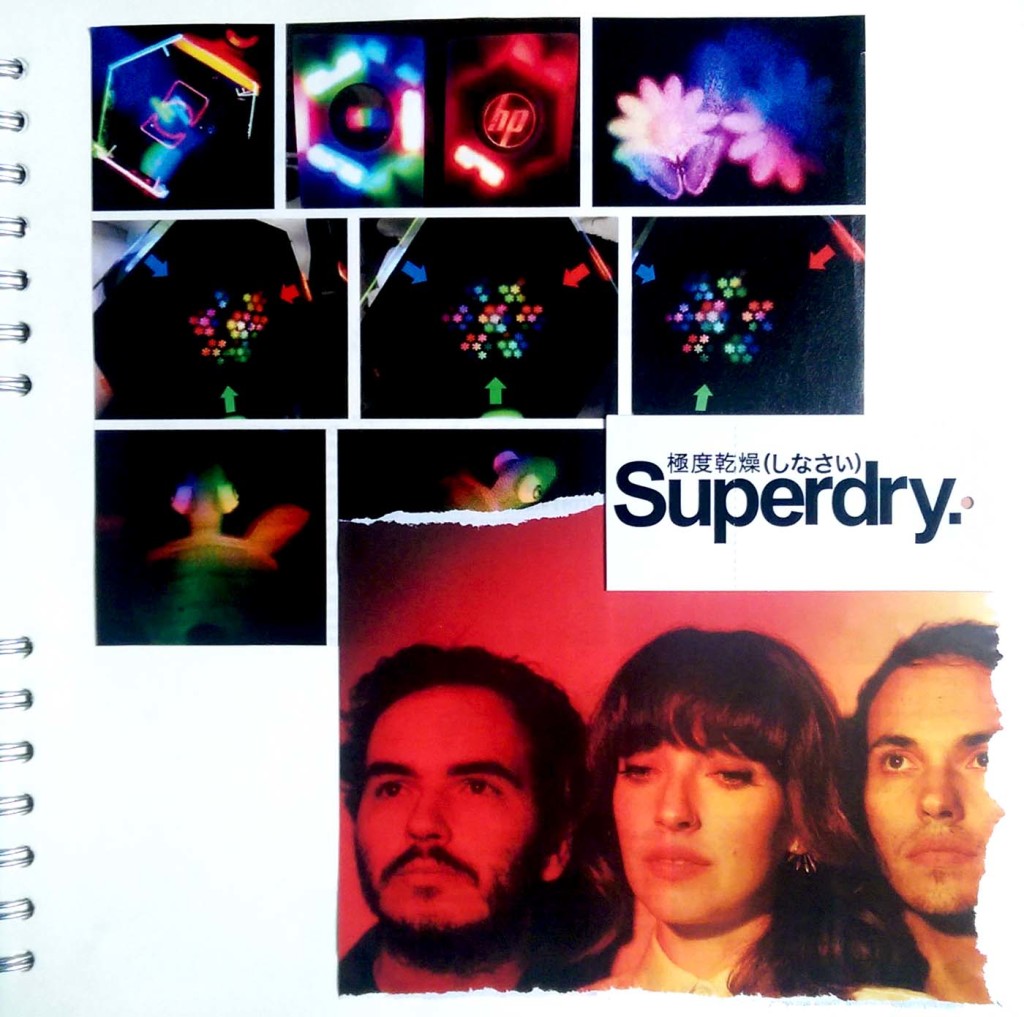 This image captured a similar sense - the pattern and placement of imagery in a kaleidoscope or the beam of carefully engineered pyrotechnics, partnered with the image of an indie band seemingly staring up into the sky.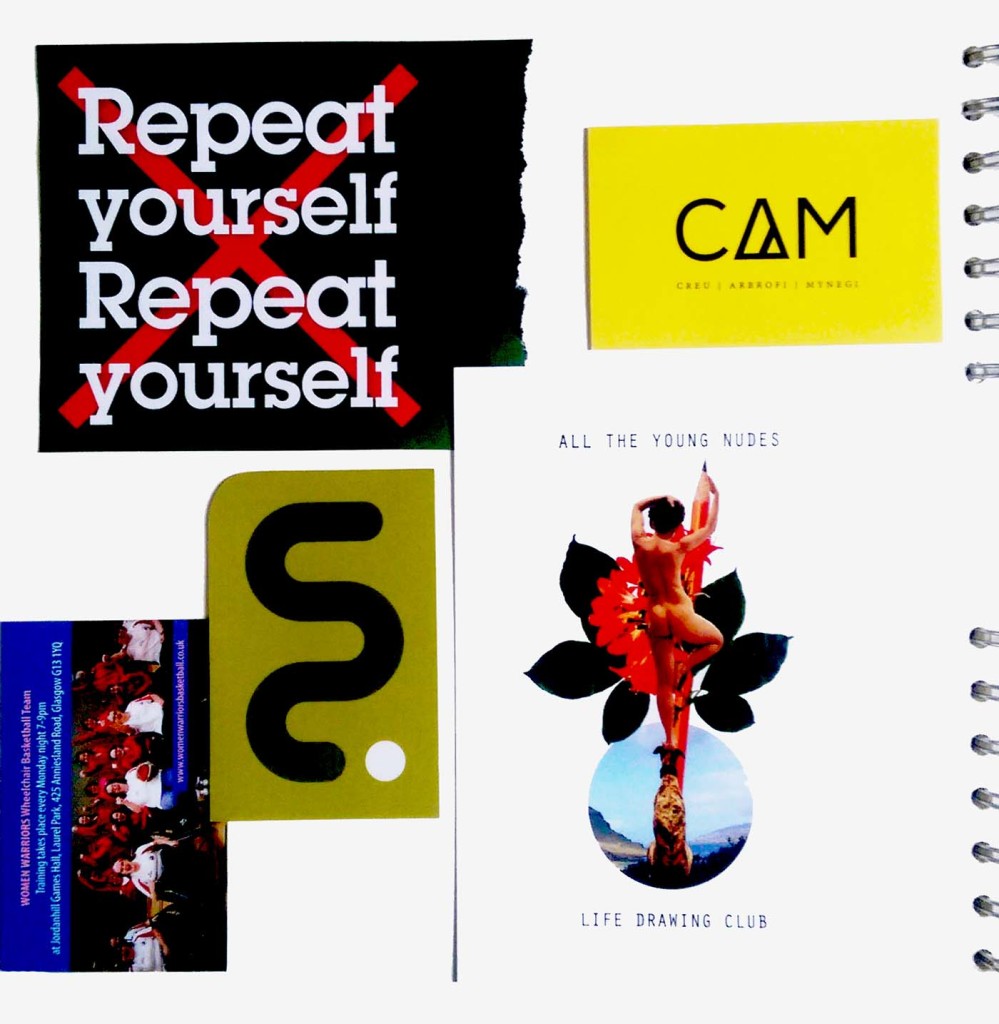 I love the simple blocks of colour in this one, and the message to 'Repeat Yourself'. (Sometimes you need to say what you want to say more than once in order to be heard.)
The bright yellow, olive green and the floral flyer for the 'nude' life-drawing club all shout of Spring and warmer days.
One of my friends is in the Women Warriors Wheelchair Basketball Team, and that seemed to slot in here too. It was a combination of the bright blue and the idea of 'Women Warriors'. I love that.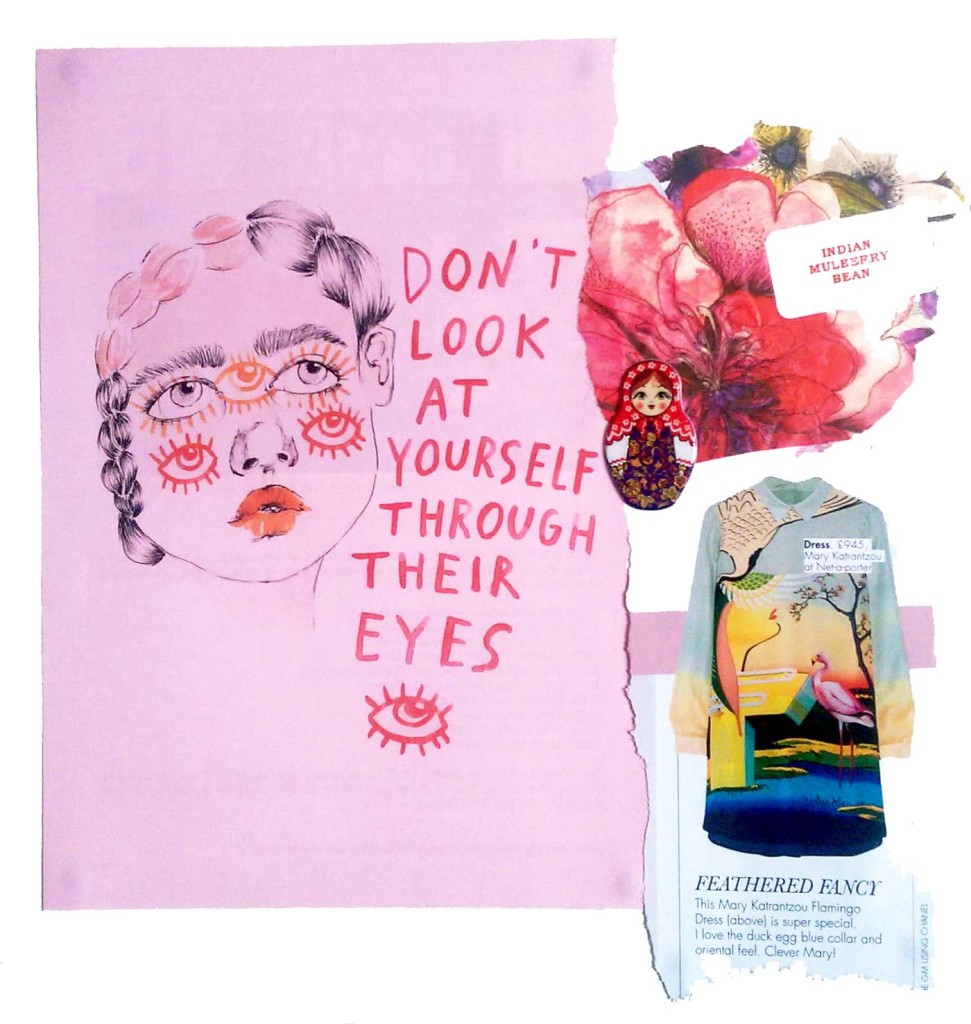 The message in this final image is a great one:
Don't look at yourself through their eyes"
(Because only you know what it means to be you.)
The sticker of the Russian doll did actually come all the way from Russia (thanks Kate!), and represents on this page all the many layers of ourselves that we keep hidden from sight.
And I couldn't throw away the beautiful printed tissue paper that came with a handmade bar of soap; a gift from my friend Vikki.
Indian Mulberry Bean sounds so exotic and now my scrapbook smells delicious!
The new season over at Get Messy Art Journal starts on 1st February and the topic is still under wraps.
Ahead of that I'm taking part in an art swap of crafty and paper-based materials with my lovely creative friend Emily of Squiggle and Swirl. The idea is to use our surprise, swapped stash to inspire our pages in the next season. I can't wait to receive my swap!