At the weekend I did an amazing fashion portrait illustration workshop run by Holly Sharpe at her Glasgow studio. I picked up the flyer by chance at the Centre for Contemporary Art (CCA) in Glasgow - it spoke to me with its strong but delicate fashion image and florals adorning hair.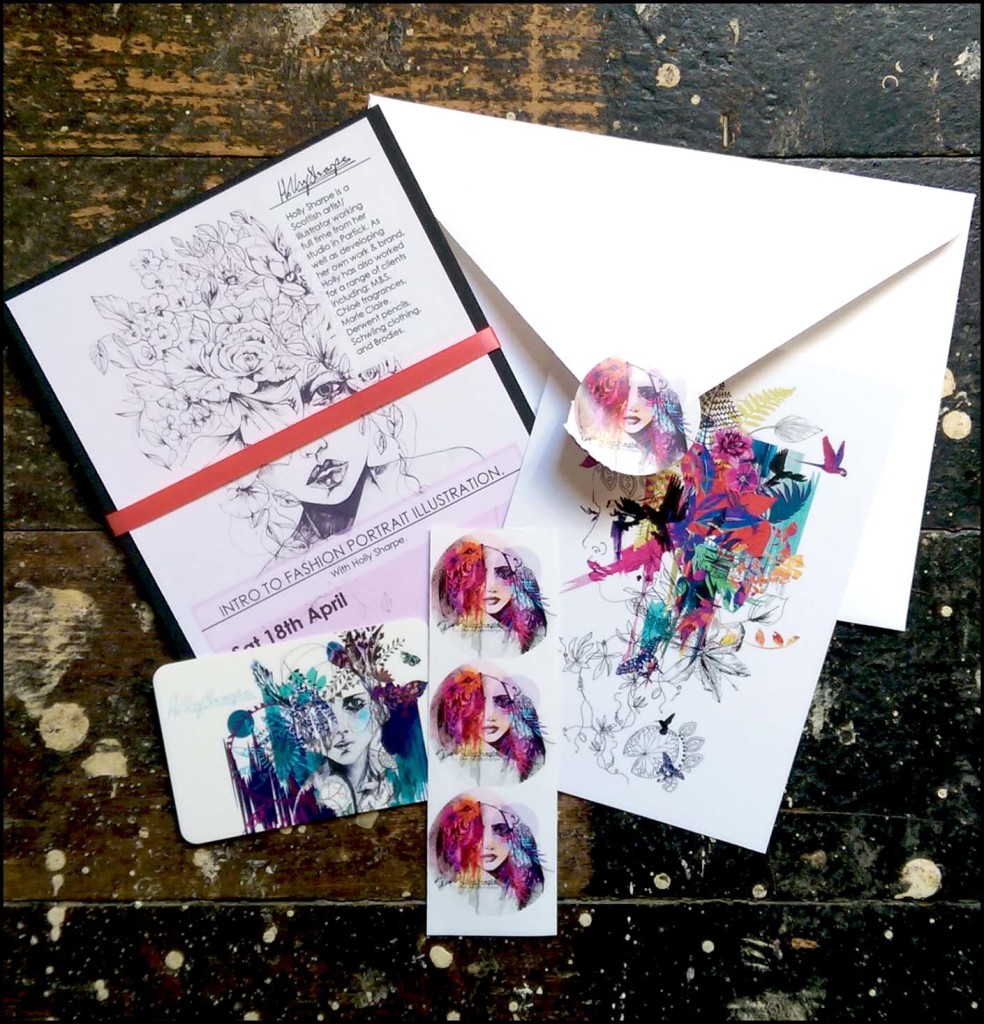 Having studied fashion at both college and university and rediscovering my love of drawing ever since taking part in the TinkerSketch challenge earlier in the year, it felt like the perfect opportunity to immerse in something that had always intrigued but evaded me: fashion portrait illustration.
The class was small and personal - 6 people - and the day was bright with sun streaming into the studio which set the day off to a great start.
There were piles of vintage Vogue and lots of visual inspiration from books and magazines. There is something so wonderfully inspiring about a space that is set up specifically for creativity isn't there? Seeing paints and pencils and moodboards. I love it. And I knew I was in the right place.
I got to experiment with Inktense pencils and acrylic ink in pots like I always imagined 'proper' artists use.
A beautiful deep blue became my colour of the day (which matched the vintage floral dress I was wearing) and I splashed water onto thick, lustrous paper, playing with the marbling effect of ink on water and tiny drops of colour to create texture.
Is this how Picasso felt in his blue period? Probably not!
The class was focused on fashion portraits = faces which have never really been my strong suit (with the exception of this face portrait I did in Higher art), so I couldn't escape the eyes, the nose, the lips, the ears - the hardest parts of portraiture and of course the whole thing.
I feel I excelled at the hair and perhaps am drawn more to floral shapes and inanimate objects. But I loved immersing in this workshop and meeting a lovely group of fellow creative peeps.
Here's my creative output for the day. Over-worked in the eyes. A bit heavy-handed with the inks all over really, but definitely food for thought for further experimentation.
Thanks so much to Holly, and I was especially touched by the personalised thank-you pack that everyone got at the end. The stickers and flyers will no doubt feature on my art journaling/collage pages very soon!
See/buy Holly's work from her shop.