I was lucky enough to attend the preview of the Glasgow School of Art Degree Show last week, leaving with my head full of ideas and inspiration (wishing I was back at university myself with access to all that TIME and resource to freely CREATE and EXPERIMENT...) My favourite part? The textiles, of course.
I was really struck by Rosie Noon's collection; the sheer embroidery words that look like they've been scraped into skin. The details are texturally intricate with so many elements to draw the eye.
I wanted to know more about the themes surrounding this work, and luckily, Rosie details her starting point and inspiration:
My graduate embroidery collection was instigated by the discovery of a photograph album documenting the mysterious life of 'Silvia'. Inspired by the repetition of women in mid-century dresses standing against blurred, floral backgrounds, contrasted by handwritten annotation of places and dates, I looked to re-appropriate these qualities in creating a new story through collage aesthetic in drawing and textile processes.
This connection to the past through a single photograph is catnip to a writer, textile lover and diarist like myself! Gorgeous work.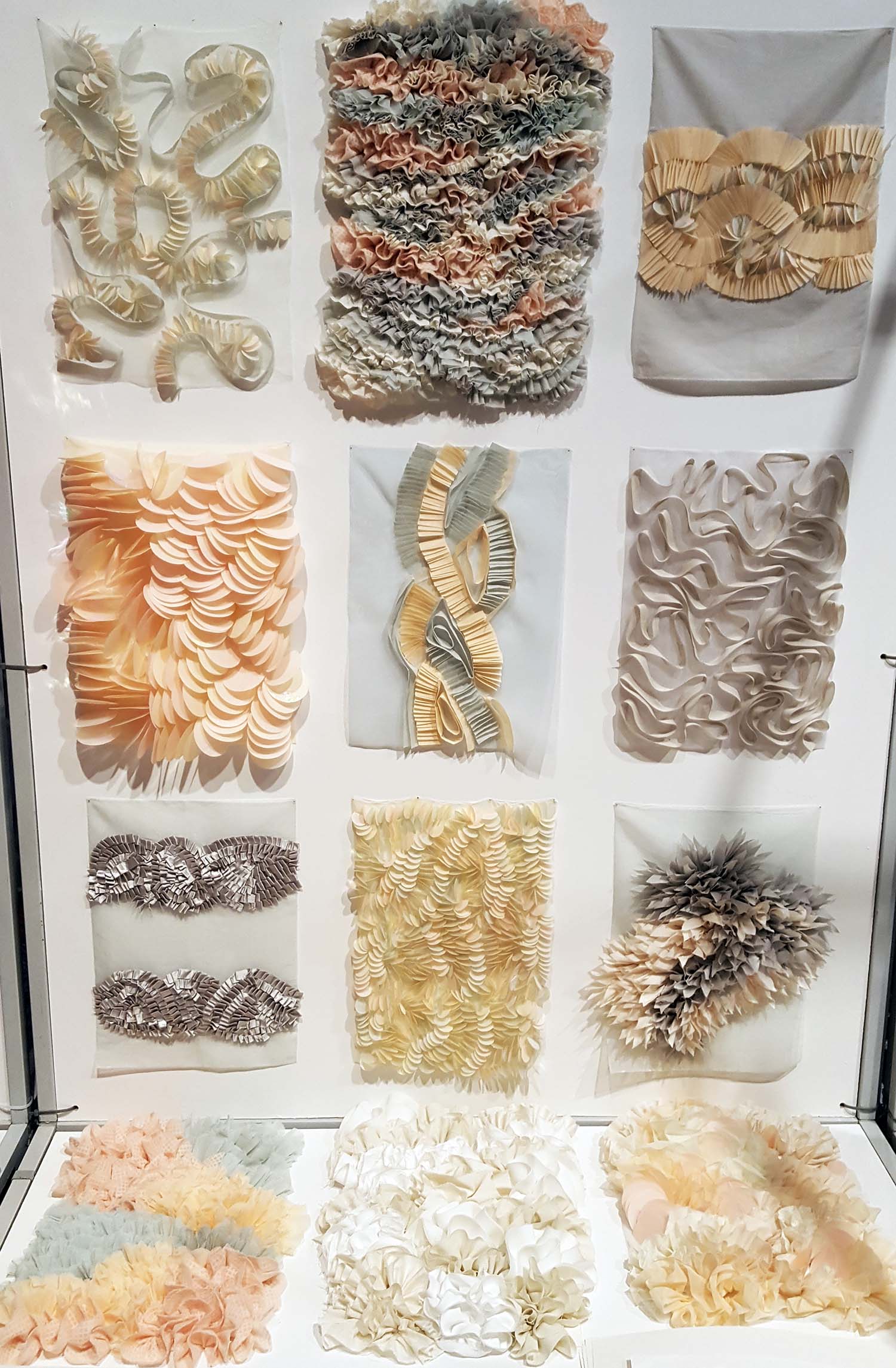 Next I was enthralled by the beautiful tactile surface elements in Penny Hewitt's work. She describes her collection:
Capturing the repetition and structures within organic form, closely exploring irregular repeat patterns.
The colours made me think of the fashion collection in my fictional novel, and I wanted to take these samples home and pin them to my wall!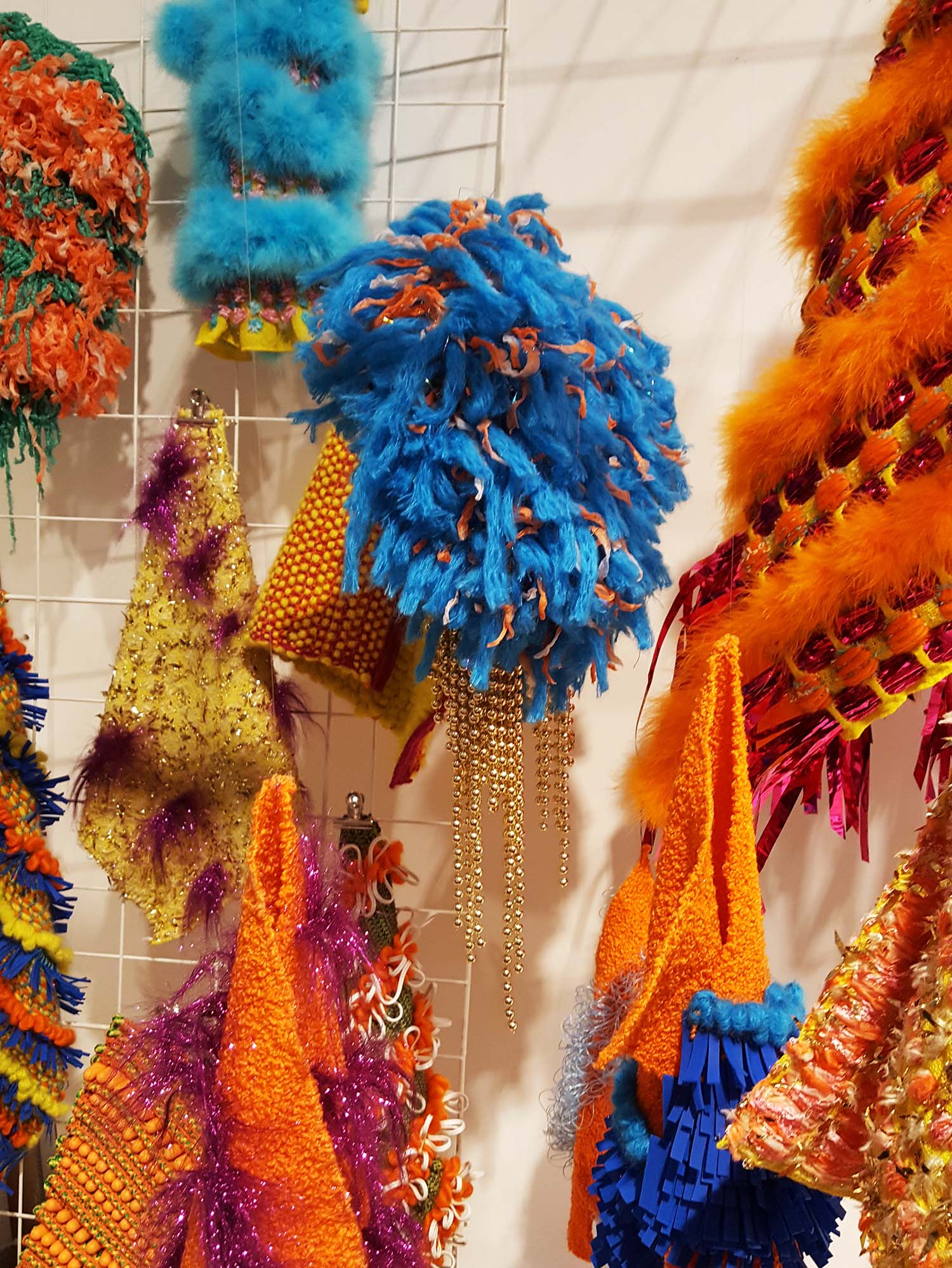 I couldn't help but see a buoyant jellyfish suspended here in Niamh Brannan's display, the clash of colours so riotous, playful, fun and daring.
Her collection puts me in mind of Mary Katrantzou prints in tactile form. Or a statement window display in a European capital? KaDeWe in Berlin springs to mind; a slew of designer handbags in matching jellyfish attire.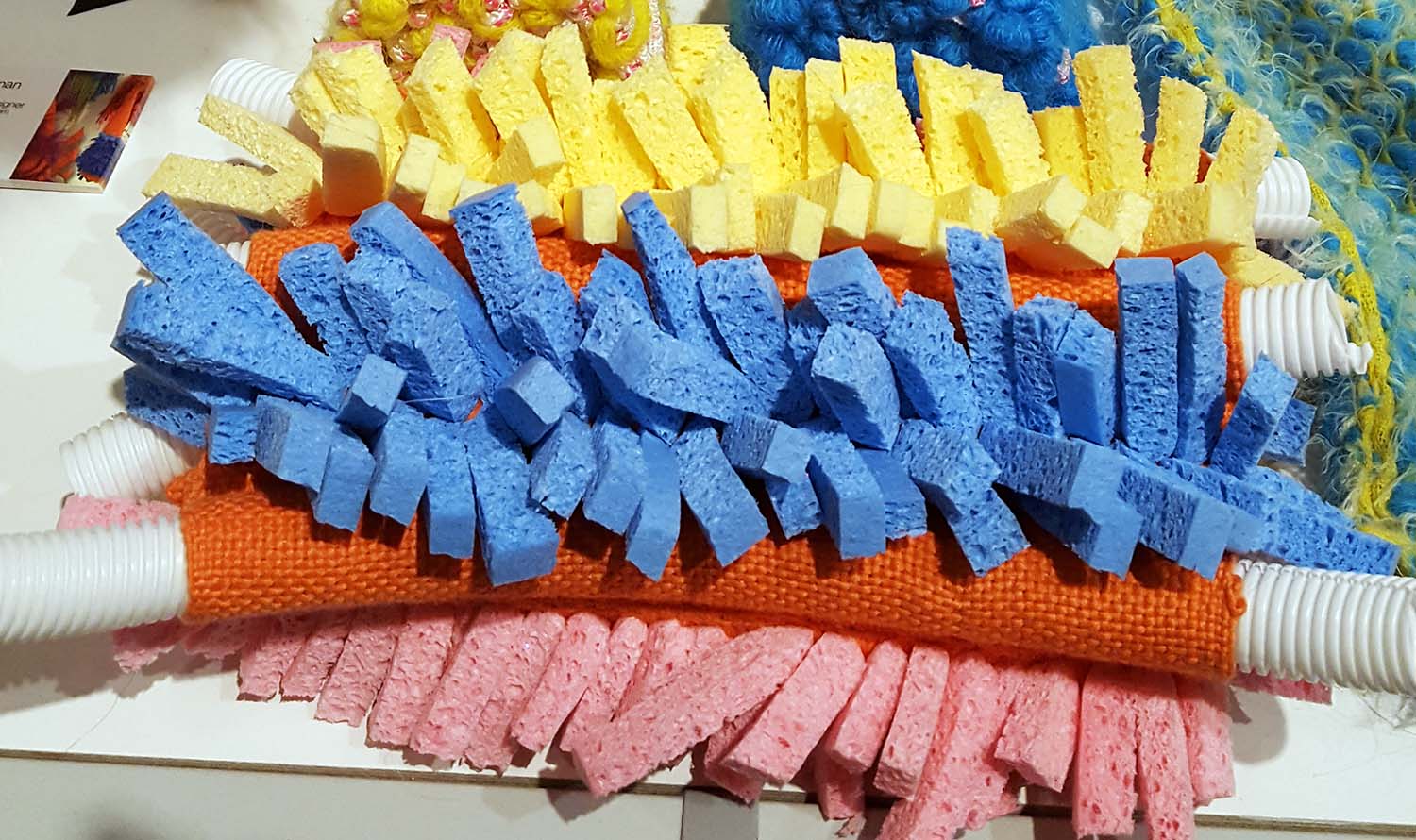 These sponge-fronds attached to plastic tubing put me in mind of medical textiles and the innovations in that area. They would certainly make for 'fashionable arteries'!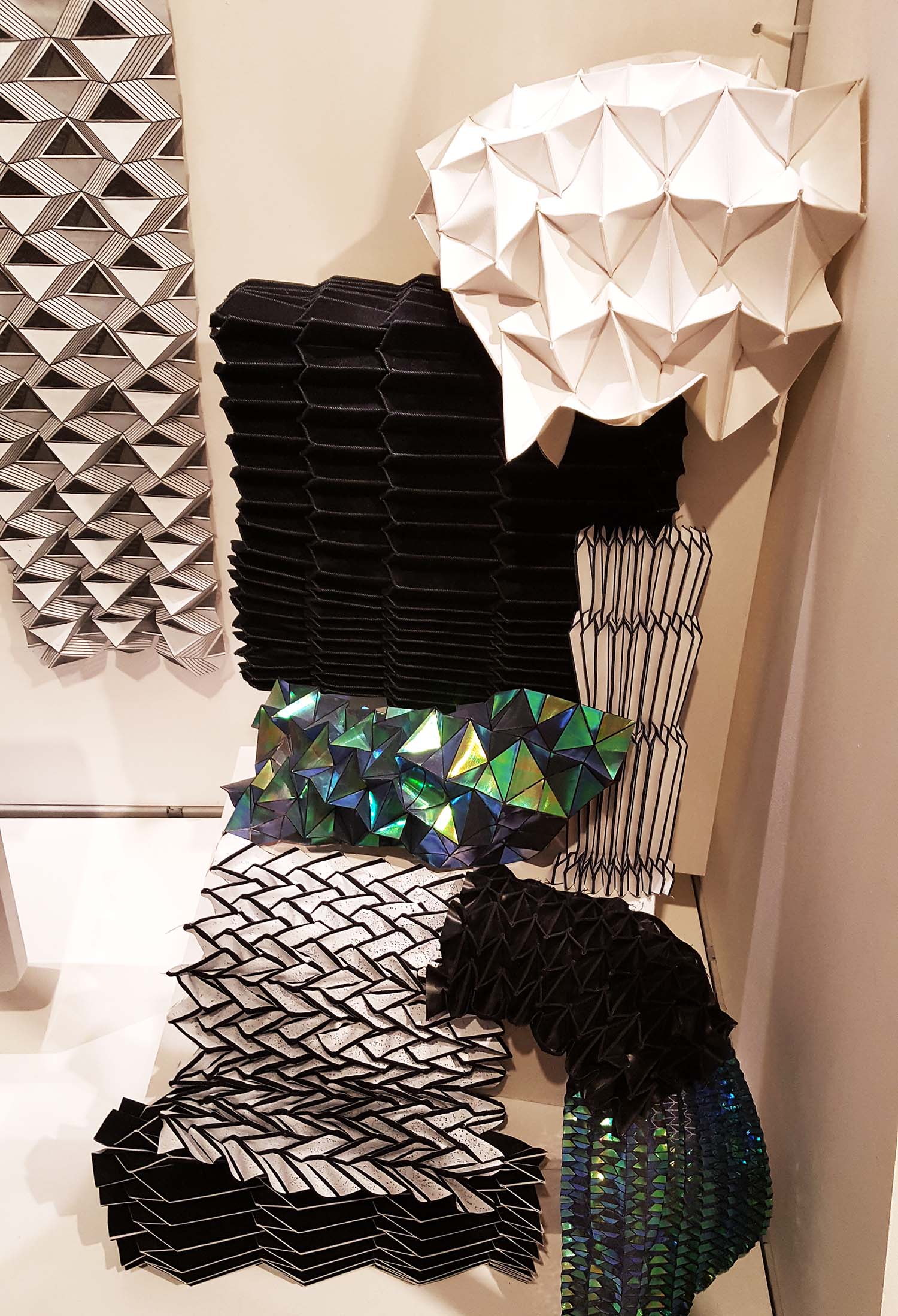 The crisp geometric folds and stitches in paper, fabric, leather and digitally cut vinyl designed by Rochelle McGuinness really caught my eye, their application mocked up in lampshades and reminding me of some of the Cubist ceramics for sale at the Kubista museum in Prague.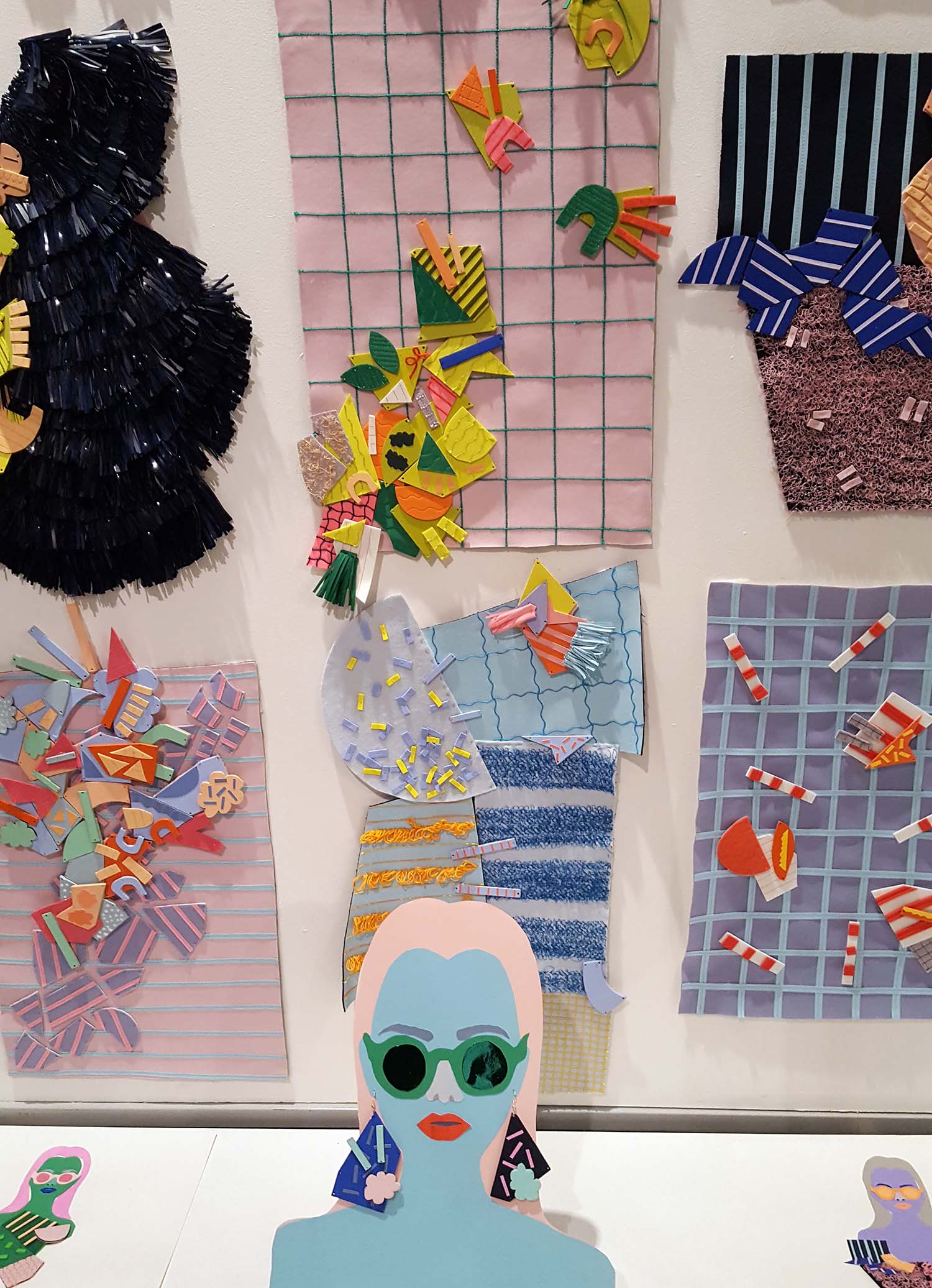 The method of display that Eliza Glanville uses is so fresh, funky and playful. I love her collage work and sketches and how both these elements feed into her textile designs.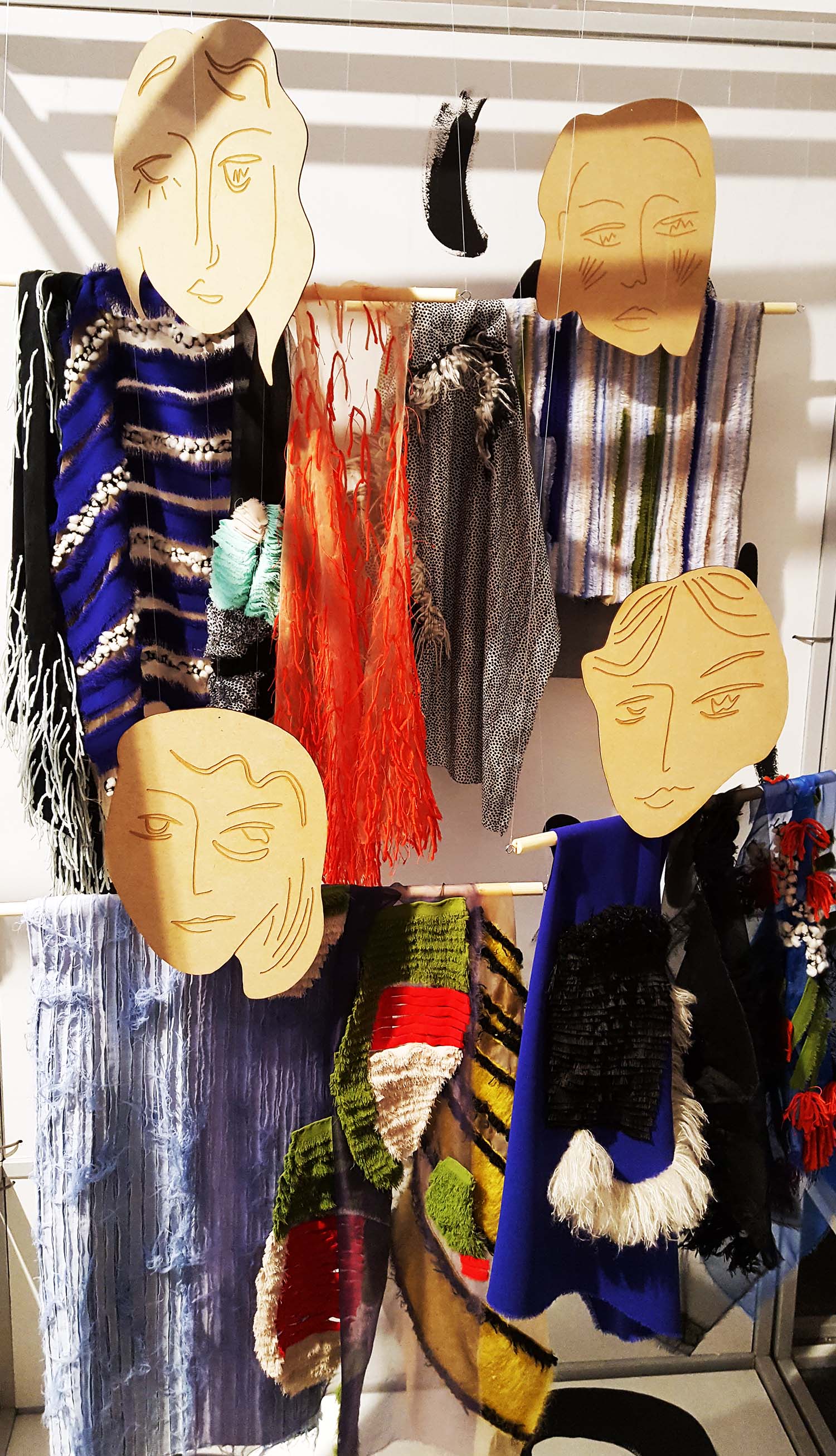 More faces. I'm enthralled by faces! Katie O'Brien describes her collection:
Tufting, embellishment and fraying techniques are explored within distinctive arrangements of colour, composition and contrasting materials...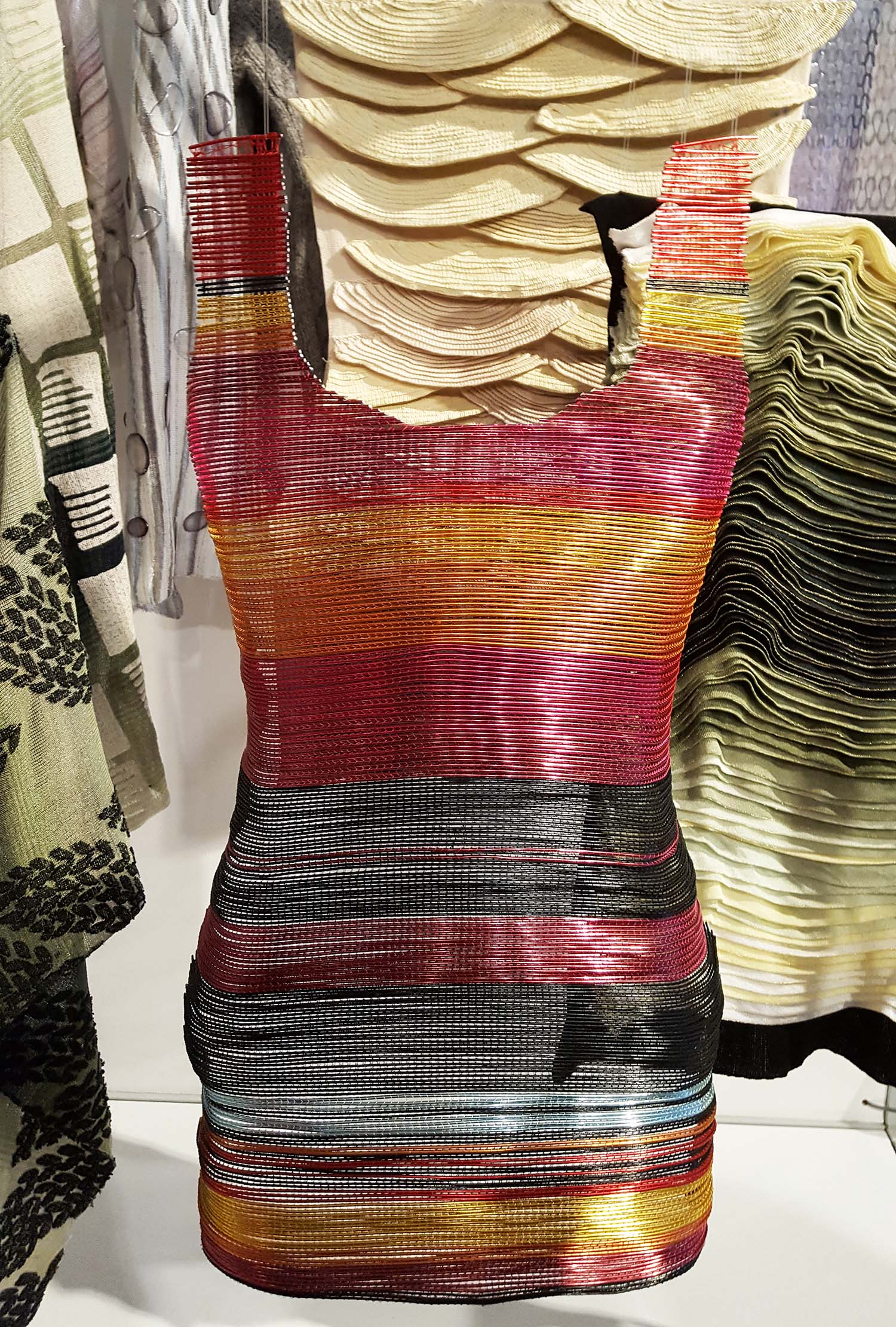 A knitted wire dress - 'entanglement' - by Kirsty Lamont:
Entanglement aims to challenge the perceived dichotomy between island and city life. Rather than seeing city life and Island life as two sides of a dichotomy I suggest that they are in fact far more interlinked than people suppose, and that they exist as an 'entanglement'. Rather than viewing knitting in two halves with 'traditional' island knitwear on one side and 'modern' textile technology knitwear on the other, my aim is to create something more akin to a gradient where the two sides become enmeshed together in the centre.
Meanwhile, the intricate embroidery of Maja Bjork's collection is both fun and compelling.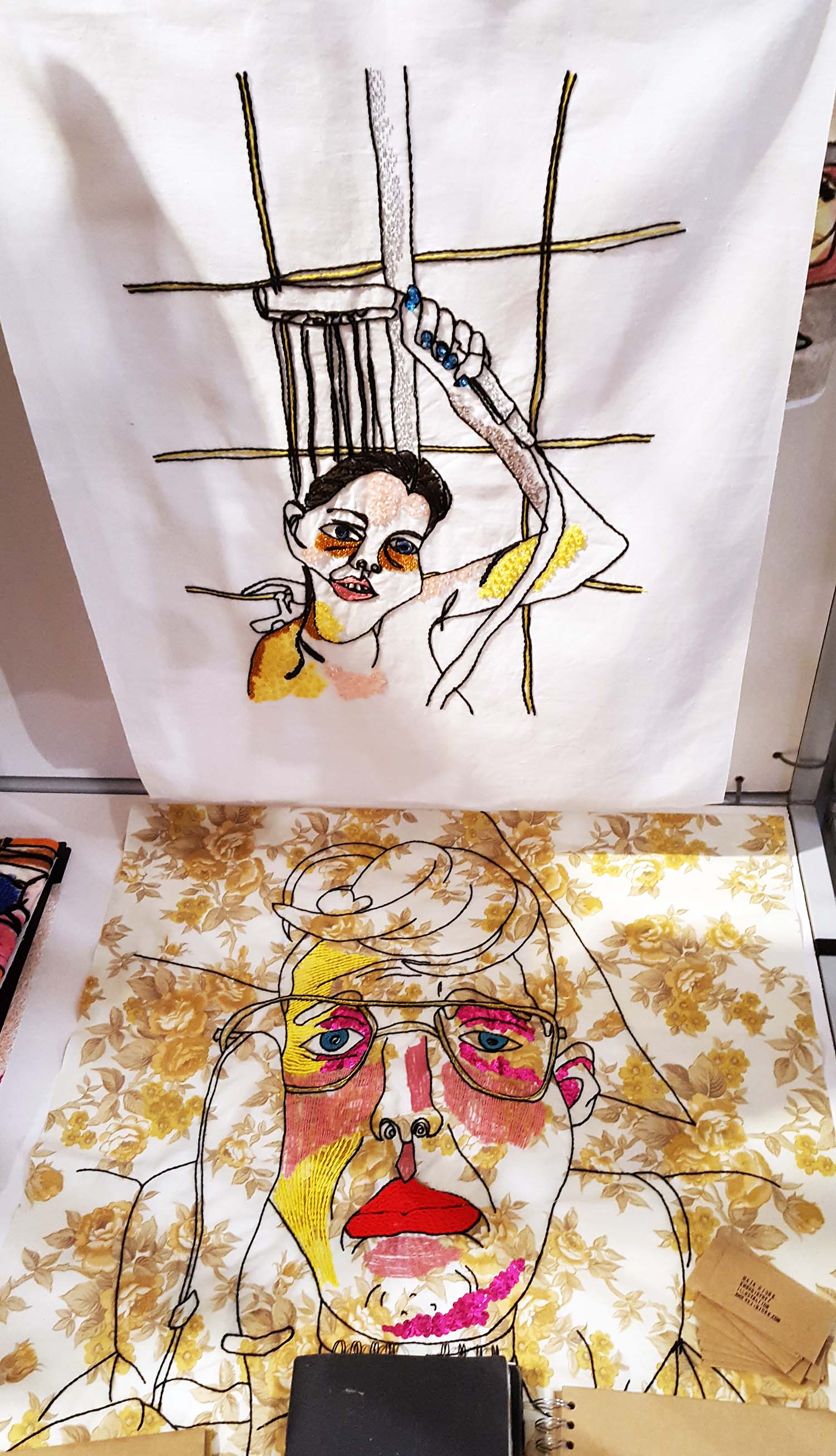 These kinds of textiles really excite me as I imagine them 50ft tall and billowing from the atriums of important buildings; tongue-in-cheek depictions perhaps of the people who reside inside?
After wandering the textile displays I ventured upstairs, passing gorgeous, architectural jewellery and spoons cast in silver made to resemble twigs. I spent the rest of the night exhausting my eyes, pointing at things, my mind whirring.
It was "an attempt to articulate" (super cool title).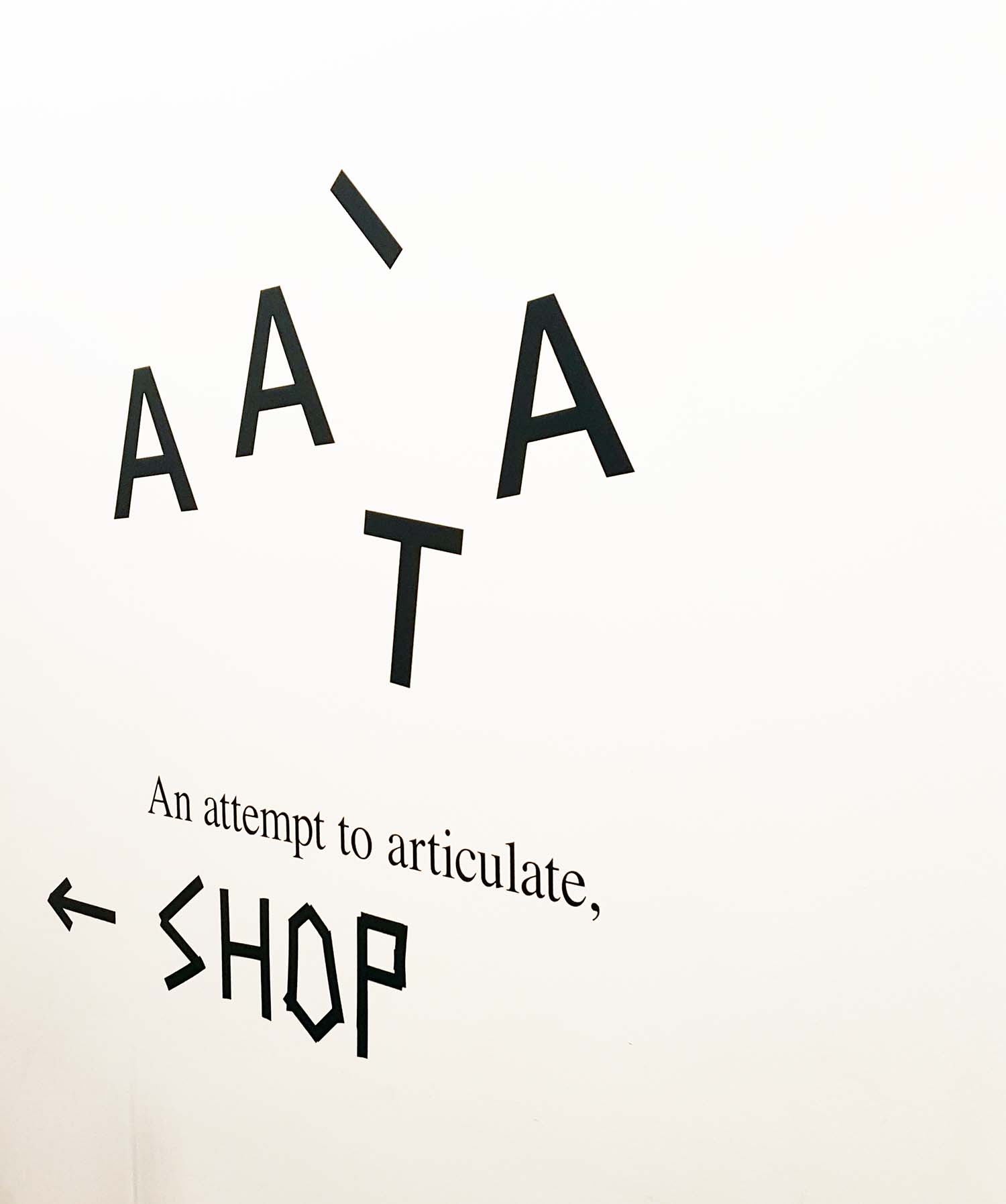 Glasgow School of Art (GSA)  is indeed a hotbed of innovation. The Degree Show did not disappoint.