I love embarking on adventures, of stepping into the unknown and immersing myself in new cultures, flavours, sights, sounds, smells and spaces. So I'm jumping straight into the new Get Messy Art Journal Season: ADVENTURE.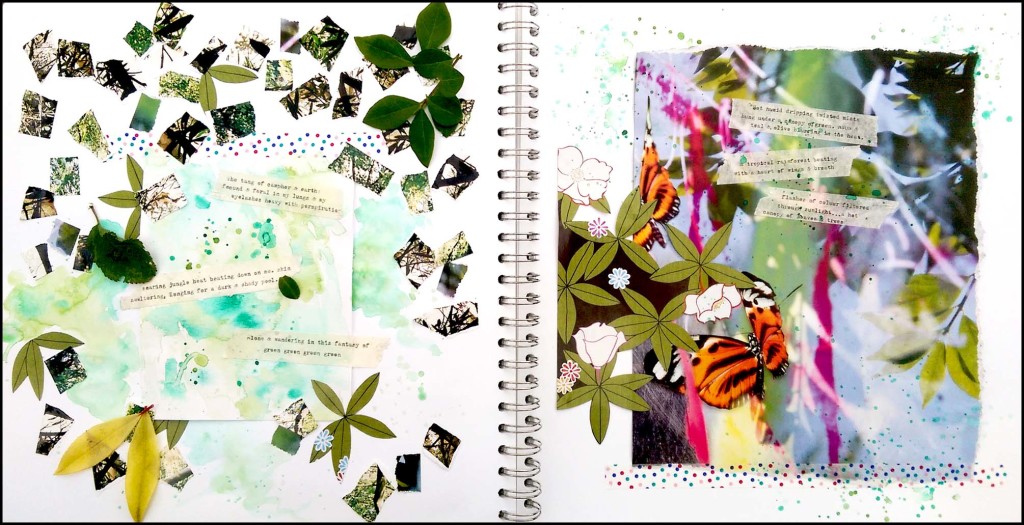 My first thought was of standing in a humid jungle rainforest, perhaps in the Amazon, surrounding by the throbbing and thrumming of wings and insects and animal calls.
Of the smell of the earth and the tangle of colours: multiple greens against exotic flora and fauna and creatures.
Neon and lime and olive and teal. Dark crevices and the weight of perspiration on my eyelashes. Wet humid dripping twisted mists. A heart of wings and breath. Flashes of colour filtered through sunlight. A hot canopy of leaves and trees.
Alone and wandering in this fantasy of GREEN GREEN GREEN GREEN, searing jungle heat beating down on me. skin sweltering, longing for a dark and shady pool.
I loved creating these pages and imagining my senses exploding with the immersive experience of a tropical rainforest.
I used my typewriter on masking tape and splashed and painted watercolours onto my pages.
For the second image I ripped up two photographs of trees and leaves so in real life their glossy sheen glints and catches the light, like sunlight burning through a canopy of trees, penetrating the dark and fecund humidity below. Looking at the finished page, I now wish I'd stuck these little photo-fragments closer together. But I didn't. Nevermind!
I gathered leaves from my garden to add texture.
My pages are quite busy, but then so are tropical rainforests and jungles and human senses.
Find out more and join in with the Get Messy Season of Adventure.
Catch up with the other Get Messy creatives who've committed to posting a response to the ADVENTURE prompts every Thursday for the next 6 weeks.