To Live Is The Rarest Thing In The World. Most People Exist, That Is All." Oscar Wilde
Profound words to ignite the spirit.
I've always been a dreamer and I feel the spirit of adventure calling me, leading me, nipping at the confines of my comfort; my mind searching, churning, sieving, relentless.
This week's Get Messy Art Journal prompts, and the current state of my home - freshly plastered, disrupted, chaotic, paint-splattered and with bare floorboards in many places - has had me fantasising about 'lift off' and being carried 'up, up and away' to a place far from the mess. A place more gentle, serene, dreamy and inspiring. Still an adventure, but with less cortisol adrenaline.
Today's page didn't require any mess, which is good for two reasons:
1) I'm up to my ears in DIY
2) All my arty materials are temporarily packed away (in a neat twist of fate, it is my creative space that is being decorated.)
It features digitally overlaid text on a photograph of a painting I commissioned by a local artist (Neil Slorance), as a gift for my husband on our first wedding anniversary.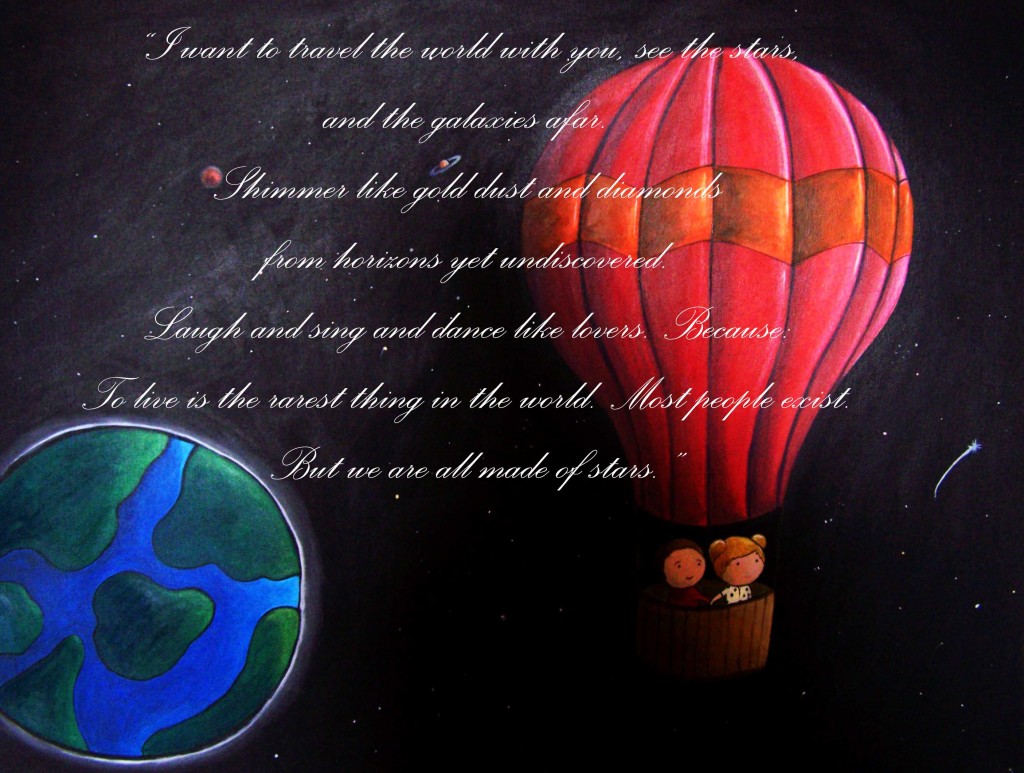 The story behind it is of the two of us together, hand-in-hand, conquering the world, seeing and discovering things for the first time: travelling, living, experiencing the vast galaxy of life, in our own personal hot air balloon.
I've not been noticing it so much lately - the painting - so I think I'll move it to a place where I'll see it better, again, like the first time. But I still remember the message:
I want to travel the world with you, see the stars, and the galaxies afar. Shimmer like gold dust and diamonds from horizons yet undiscovered. Laugh and sing and dance like lovers. Because to live is the rarest thing in the world. Most people exist. But we are all made of stars."
I said all my arty things were packed away, which is true. But while I was moving a wardrobe to paint a wall, I discovered a cache of discarded dry-cleaning tickets and clothes tags which I found to be artful and inspiring: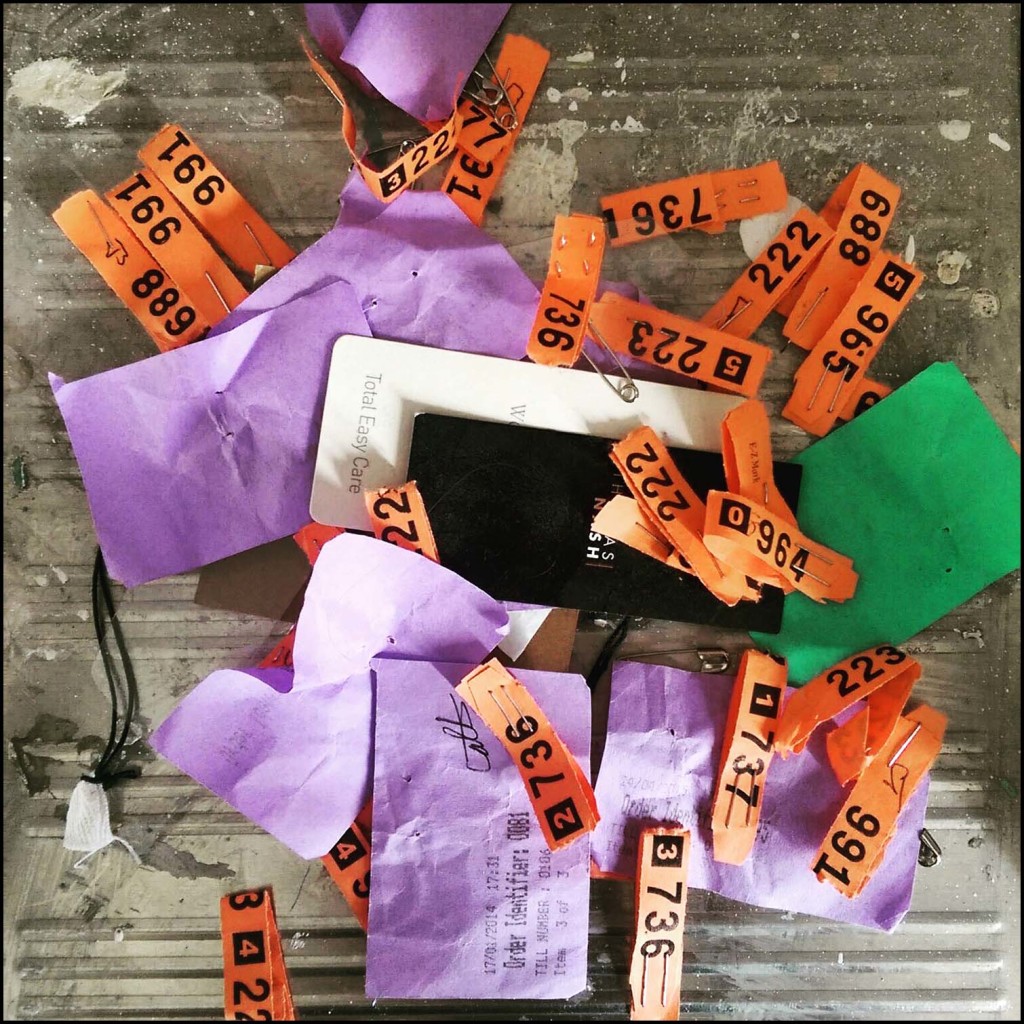 It was the inspiration I needed to imagine an art journal page with branches of numbers connecting to adventures and experiences, and the people who were part of them. Like a mini travel journal entry utilising the materials you have available.
I thought it also played on the sense of 'your numbers have come up!', like on the lottery, or perhaps achieving a dream. And I like that idea:
A lucky break. A chance encounter. An opportunity. All of which lead to adventures - physically or of the mind or both.
Like having wanderlust or writing a bucket list and jumping right in.
One problem: before I could create my show-stopping improv page, the room where I left these tickets was quickly taken over by a large bookcase, a sofa bed, two huge suitcases and the doorway blocked by a hefty glass-fronted cabinet.
I experienced this particular adventure with my inside eyes, as you will have to do for now. I will endeavour to create it once order has been restored.
Second adventure-related problem: I don't travel light. I've tried but I can't (and I've read all the blogs about 'packing minimal'...)
And I'm very attached to the idea of 'home' and the sense of a dwelling place being more than just shelter and a place to cook food.
I'm not materialistic in that I 'must have' lots of designer things, but due to a lot of moving house as a child, and a few other life-happenings, the possessions that I own are important to me and I struggle to discard anything that has sentimental meaning.
I've never seen the film 'Up', but I know that it features a house attached to a load of (helium?) balloons.
How amazing - to be able to travel the world like in a hot air balloon, but still be at home, or at least, in your own house.
Wouldn't that be an adventure? I'd like a ticket to the stars please. For two.
Meanwhile, see what the other Get Messy creatives have been up to this week.