I 'met' the lovely Kate Cuthbert last year via The Collage Club group on Facebook (for all lovers of collage and paper-crafting!), and since then I've been in awe of her talents as a collage artist but also how prolific she is in creating her eclectic, thoughtful and visually stunning designs. So far there have been collections featuring Space Cat-dets and Fash(ion)Cats and Big Cats of War and Kate's current series features women emerging from flowers. Wow.
When Kate first launched as Satin+Tat Collage on Instagram, I was delighted to repost her competition image and spread the word about her collage art.
In response, Kate so thoughtfully made an original collage design just for me, posting it all the way from Satin+Tat Collage HQ in Adelaide, Australia to Scotland. That's exciting snail-mail!
I was delighted to receive this pretty dancer on a hand-painted background. She's now framed, ready to be displayed once my creative space has been revamped: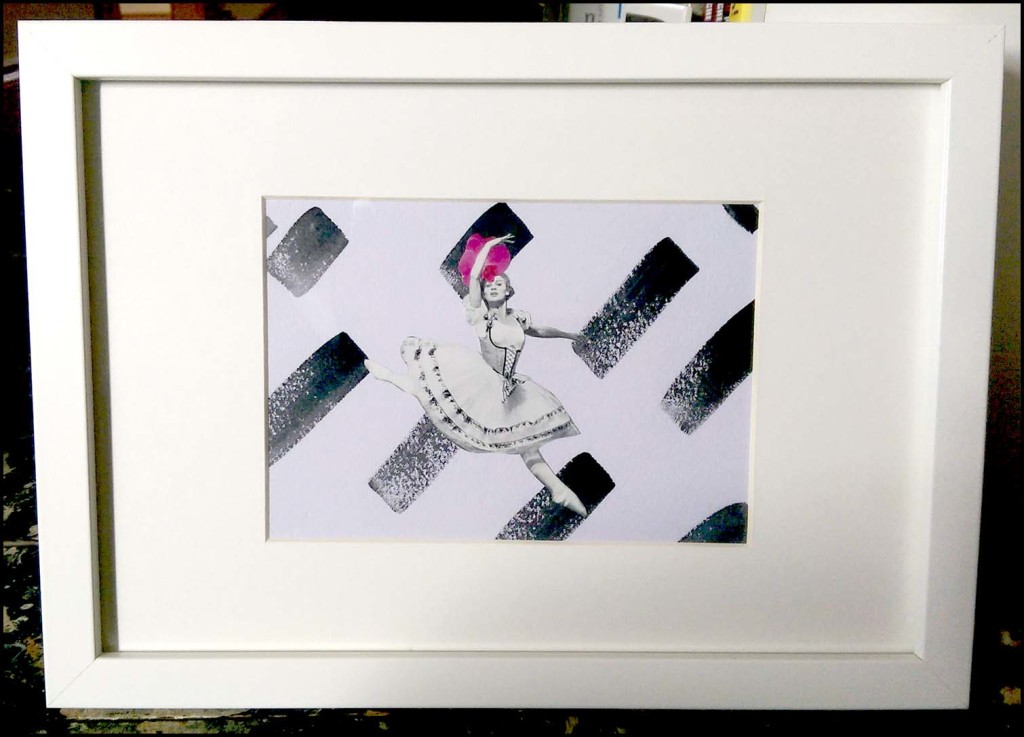 And I thought it would be fun to do a little Q&A with Kate to delve into her creative inspirations, latest projects and to spread the word of her talent in my own little way.
Here goes:  
How did you get started with collage?
I have always played with collage. I have a stack of zines I've made about different experiences and situations in my life. It feels like a way of sorting through what's going on and assembling it into something that makes sense! I only recently began sharing my collage with friends who encouraged me to enter the Yen Female Art Awards, once I took the big step of putting myself out there, I continued sharing my work.  
What are your favourite materials to work with? (i.e. vintage postcards, mags, etc)
I am happy to work with anything and everything! My bookshelves are sagging under the weight of magazines, from National Geographic to Vogue, and a selection of books from op shops. Everything has potential and in in danger of being cut up. I'm also experimenting with watercolours and paint pens to add to the images I find.  
What are you working on just now? (projects etc )
Right now I am working on a series of, mainly women, emerging from and being encompassed by flowers. Each piece has a unique personality and evokes a certain emotion or feeling.
This series came about from taking part in the 100day project on Instagram and I'm really enjoying making them. I will be exhibiting a selection in my first exhibition in August (for SALA - South Australian Living Artists.)
What/who inspires you/where do you find inspiration?
Inspiration comes from everywhere!! Often my mood will dictate the feeling of my work that day, as it did when I began. Collage is still a form of catharsis for me. Sometimes a particular image will strike me and I'll know exactly where I want it to end up. There are many great collage artists I have discovered. Jay Riggio, Michael Tunk, Clare Celeste Borsch... I could go on and on!!
How do you think collage has changed over the years and have you noticed any particular (emerging) trends?
Collage is constantly reinventing itself. There are so many different ways to interpret the medium from the simple, stark white backgrounds to a page full of images. I love this about collage. Anything goes!
In terms of emerging trends, I am noticing a lot of Space out there. I'm using this too. Galaxies, stars etc used in new, unexpected context. It can give a really different dimension to a piece.
 Thanks so much so to Kate Cuthbert for taking the time to answer these questions, and I'm in agreement about the beauty of a galaxy (especially one featuring cool Cat-dets!)
Check out more of Kate's work and pick your own favourite on Instagram and keep up to date with her exhibitions and future plans on the Satin+Tat Collage Facebook page.
I'll leave you with this fabulous, whimsical favourite of mine that Kate posted for Easter - it makes me smile, is bright and busy with florals and mushrooms and speaks of magic and escape into a fantasy world which is what I love about collage: