I am so excited to share this bauble wreath, because it was so quick and easy to make, and cost next to nothing.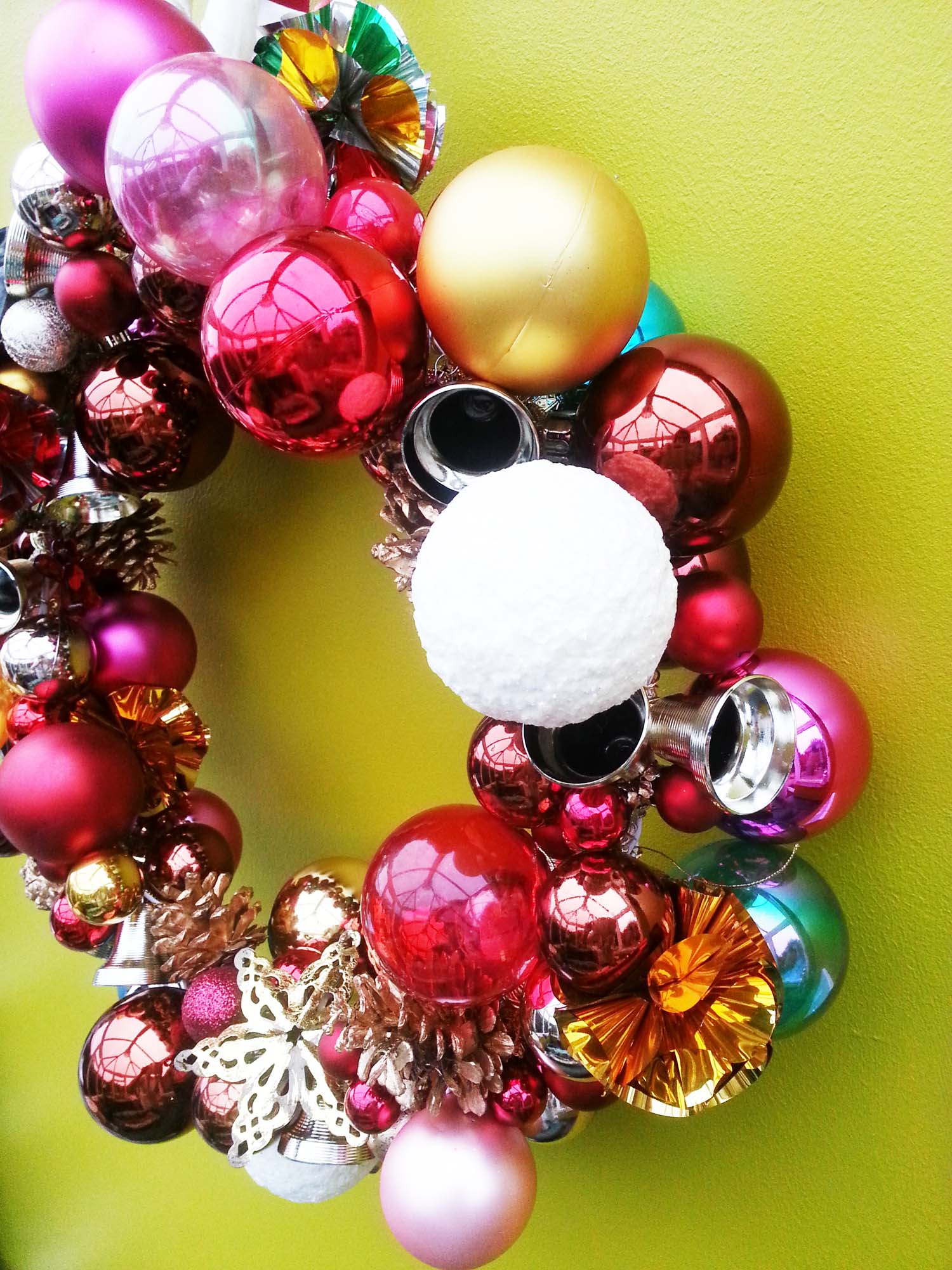 Inspired by an image  I originally saw in Pretty Nostalgic magazine last year (Issue 10, page 19, a feature on Kate and Adam from My Vintage Life), I thought: I could do that.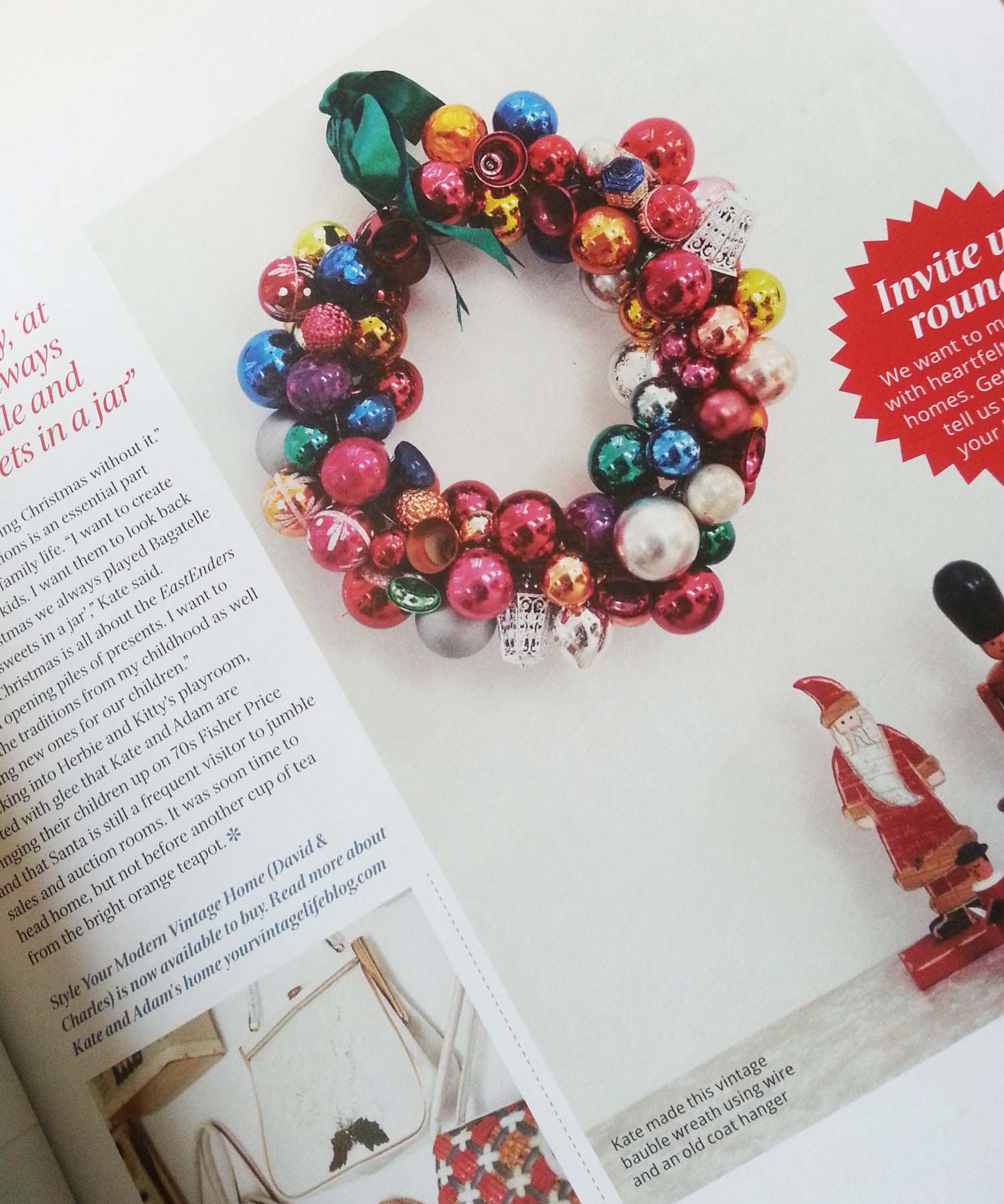 I didn't look up any tips online or instructional videos on YouTube, but just grabbed a few thin wire hangers (the kind you get back from the dry cleaners), and started moulding them into a circle.
I kept one hanger with the hook still on, and cut the surplus hooks off with pliers. Then with gold wire that I had in my craft box (you could use thin ribbon instead, or wool), I started tying baubles onto the wire frame at random, building up the layers.
It looked a bit rubbish at first. Forlorn and home-made and amateur-hour, but these things require a bit of creative thinking and vision.
It needed the fullness of completion. A feast of shapes and colours. New and vintage baubles. Big and small. Bells and stars. Red, green, pink, gold, blue, silver, white...
I got lost in the flow of winding and creating and imagining. (This is a great activity to do while watching a fav Christmas film).
My stock of Christmas decorations had been slowly increasing to the point where I was going to give away the surplus baubles that had no real provenance or sentimental significance.
But instead, now: WOW.
I am so proud of how my Christmas bauble wreath looks. And the best thing is, I made it from things I already had, creatively, so it cost nothing extra.
I want to highlight the white glittery snowballs. These have been in my family since the 80's, and I remember them from my very first Christmases as a child. They have little bells on the bottom and holly on the top, and are a bit naff now, but I love that I have preserved them in a new heirloom Christmas decoration.
If I hadn't upcycled them into this wreath, I think I'd have ended up getting rid of them, which would have been such a shame. They're much easier to pack away in wreath form too!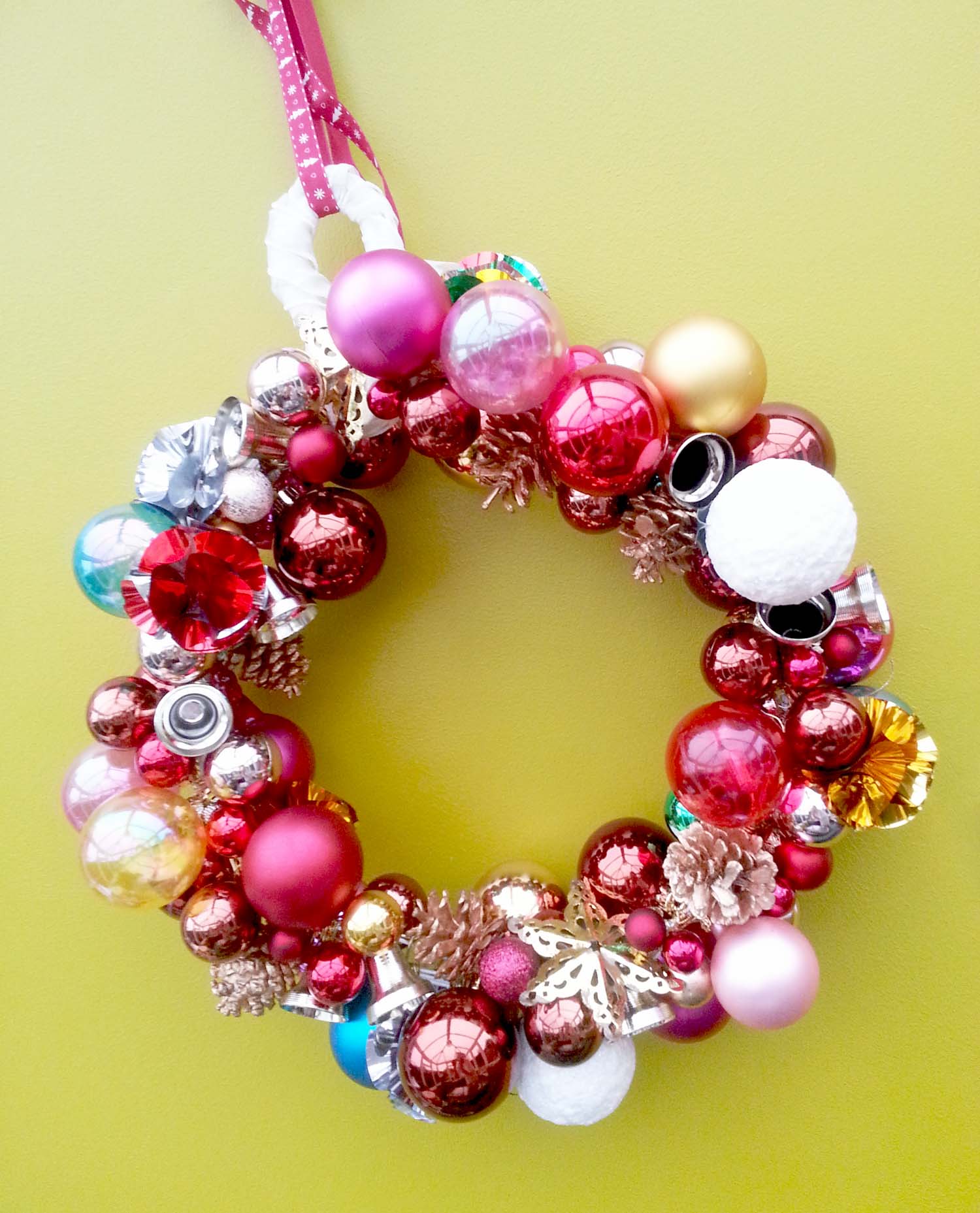 It was fun to make; deciding on which colours to group together, choosing different sizes and throwing in the odd gold star or acorn or little bell.
I made this Christmas Wreath Bauble last year, and posted this story on the blog I had at the time.
Unpacking it again for Christmas 2014 was a real delight as I remembered the creative process of choosing the baubles, and the uncertainty of whether it was going to work out or not. It felt so special and festive that I wanted to share it again here to inspire others.
And the great thing is - there's still plenty of time to make one. Or more...
Give it a go. I'd love to see the results!