So I signed up for the Papirmass + Brown Paper Bag Collage Scrap Exchange. The theme: New Landscapes.
The idea was to exchange collage 'scraps' with a randomly matched exchange partner, and then create a new collage in response to the theme, using a mix of your own materials and those received from your partner.
We're looking forward to a broad interpretation of what new landscapes means. Is this an undiscovered place? What's there? Or, is it somewhere that we've known all along?
I deliberated for a while, got over-whelmed with all my 'scraps' and then experienced 'collage paralysis' as I attempted to create the best collage I've ever made = a recipe for disaster. I didn't get very far.
But then I started to narrow down my colour palette. Sift through my pile of cuttings with a more discerning eye. Keep out only the pieces I truly loved.
An idea began to form. Typography tower blocks emerged and mountains morphed with milk bottles. I was on the road to a new landscape: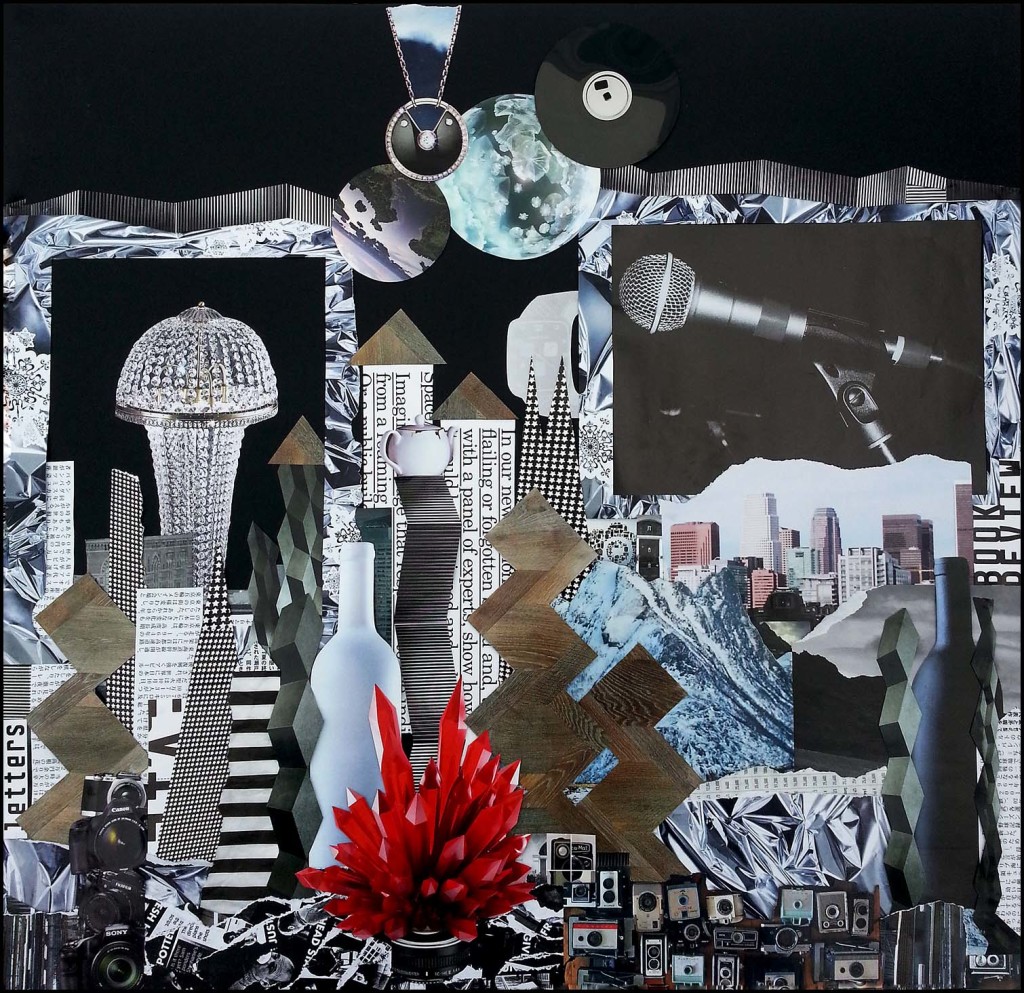 In the end I'm really pleased with my collage. I did try not to over-complicate, not to over-egg the pudding (which is my tendency), but sometimes you just have to let things take shape.
My futuristic landscape features a horizon comprised of words and type in foreign languages.
Mountains are made of paragraphs, while trees are robust zigzags and jellyfish chandeliers light up the night sky. We can see other galaxies and worlds like in platform computer games of old, and the time hangs dazzling and bejewelled from the sky. Cameras and lenses lead to other places and from blazing red crystals new life grows.
All the world is a living microphone for the voices of the future. The microphone image was a favourite from the beginning.
My collage is a commentary on working together as different cultures combine, merge, morph and grow; of being heard, of listening, and of a new and exhilarating harmony with a place for everyone.
And there's a tower-block-topping teapot, because we'll need a lot of tea.