So the Get Messy Season of Brave passed me in a flash. I felt not so much BRAVE but slightly blocked - creatively, expressively, but most of all, brave-ly. My first week of Brave flowed like fish, all translucent watercolour and whimsical BRAVE thoughts.
And I so wanted to make my BRAVE zine amaZINE.
I had lots of ideas. Gathered cuttings and washi tape and pens and stamps and ink and glue, but, but, but...
But now it's here. My BRAVE art journal zine pages: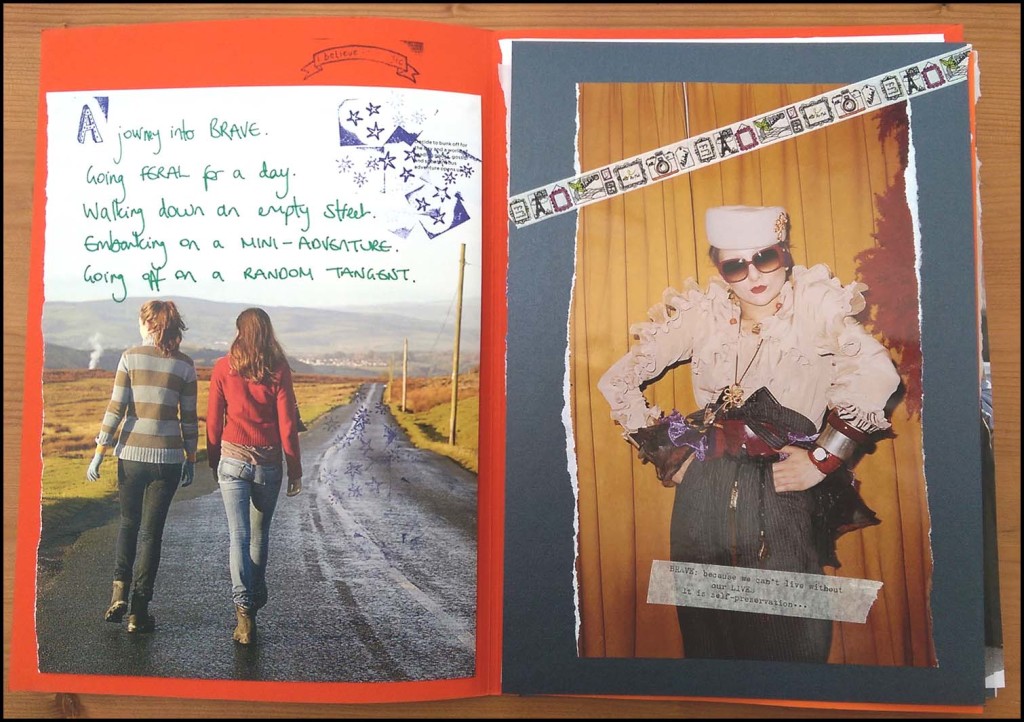 BRAVE is going FERAL for a day. BRAVE walks down empty streets. BRAVE embarks on a mini-adventure. BRAVE embraces random TANGENTS. BRAVE follows INSTINCTS. This is me: BRAVE. Because: Leaves make their own dreams. BRAVE wears bright colours. BRAVE listens to that INNER VOICE. BRAVE speaks in front of STRANGERS. BRAVE starts a new notepad and fills EVERY blank page. BRAVE wears heels. Sometimes. If it wants. BRAVE finds the GOLD. BRAVE is GOLD. Put a bet on BRAVE, not a full stop. BRAVE makes an art journal zine. And presses publish. BRAVE is self-preservation. I am BRAVE.
What's your BRAVE?