I spent the weekend in Birmingham, England. I'd never been before and so it was a first-time experience for me in the city that boasts Spaghetti Junction fame and the iconic Bullring shopping centre building.
There was traffic and traffic jams and major roadworks, but there were also bright, sunny days and plenty of time for exploration. I took lots of photographs and I walked for miles.
It seemed like miles.
What I always find exciting is picking up leaflets and flyers for local events and seeking out the creative hub of a new city. I saw street art and names in lights and made some vintage purchases. It all went by in a blur of pink flamingoes and colour and that slightly disturbing whiff of 'vintage' aka old stuff.
Here's a selection of printed ephemera that I brought back with me. I love the colours and the type and the styles: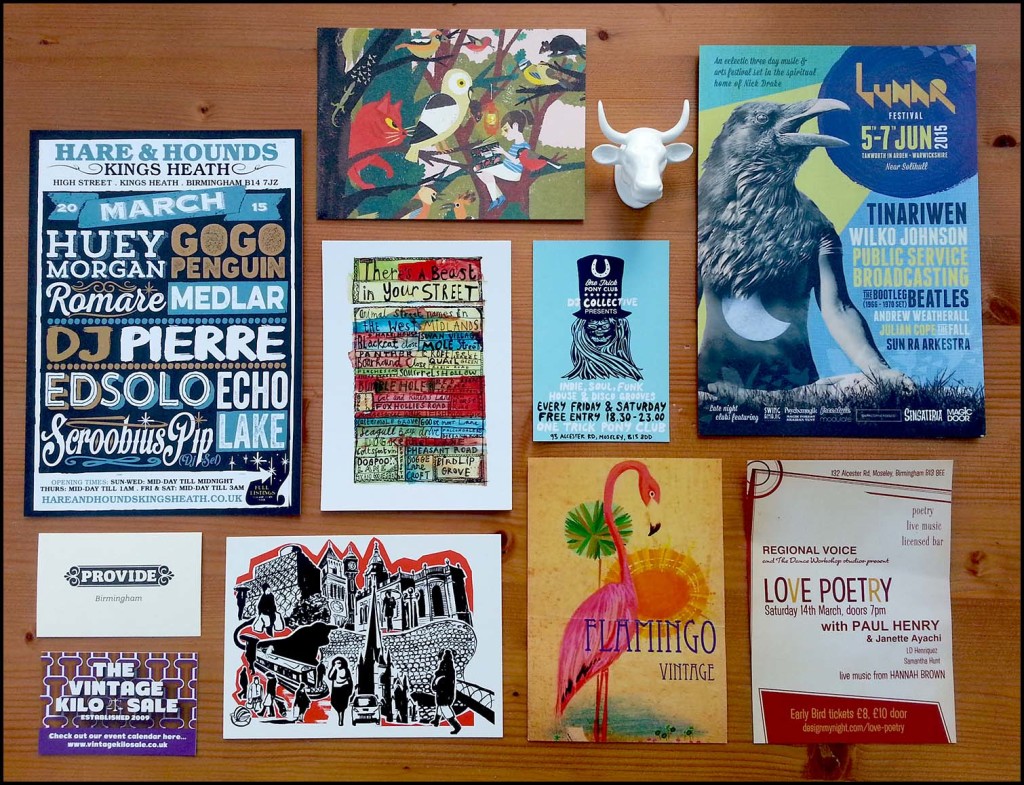 The bull is a magnet (bullring, geddit?)
My Mum collects fridge magnets whereas I collect postcards.
And I know where some of this printed material will end up: in collage projects and art journaling.
There were inspirations on the streets everywhere, particularly around the Custard Factory:
It just goes to show that you really don't need to go abroad or very far away at all to be inspired or have a great time. All you need is some colourful, arty distraction and stimulation of the mind to fully immerse in a glorious state of exploratory 'flow'.
Or maybe it depends what you're looking for?
Either way, Birmingham has plenty to offer for a fun-filled and vibrant weekend break, though obviously, you can't beat Glasgow...