The excitement of the 'SEASONS' is being able to immerse yourself in the abundance of nature's wardrobe. The colours, the patterns, the scents...
My first thoughts on the theme of SEASONS:
Adventures, blossom, sunsets, blackberries, time marching on, feathers, leaves, colours, sand, avenues, paths, routes through the snow, snowflakes falling for the first time, fires in the heart and in the sky, picnics, woodlands, migrating birds, and as a thread flowing through it all, photographing and documenting the passing of the SEASONS.
Which is what led me to: A Girl for All Seasons. I'm a girl for all seasons!*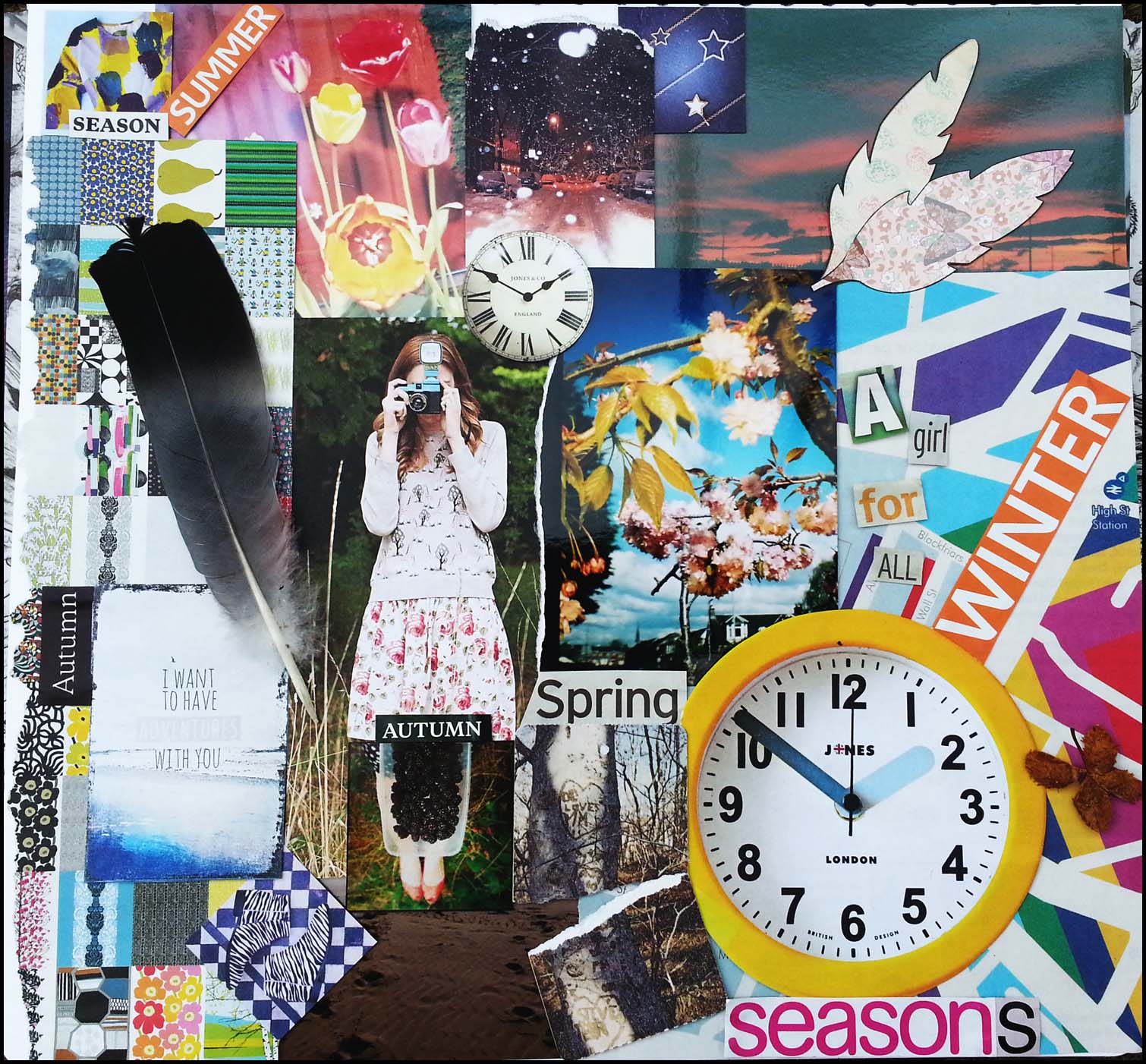 My interpretation of this theme is an eclectic and overlaid prickly kaleidoscope of patterns and prints created using photographs I took using my own Diana Flash Lomography camera (like the girl in the collage), images from magazines (including some Marimekko prints sourced while visiting Helsinki in July), a colourful map created for Glasgow's Merchant City festival, and a feather and a crushed kernel which I picked up on a recent walk. I loved the ombre effect of the feather and the butterfly shape of the kernel.
I LOVE living in Scotland and enjoying the different elements of each passing season, each quarter of the year that has its own tone and feel.
The joy of spring buds, daffodils, lighter nights and that magic in the air of renewal and possibility, the firecracker sizzle and sunsets of late summer, the possibility of picnics and the gradual shift into autumn(*autumn, autumn, always autumn), and the 'festivals' that take us into winter: Halloween, Bonfire Night, Christmas. Darkness, being cosy, crafting, hibernation, snow patterns on windows. They all have their good and their bad and I enjoy being able to celebrate them all.
You can also view the Facebook group page.