I've met some amazing creatives through the Get Messy Art Journal group, and over the summer this led to being invited to collaborate on a special ZINE project with a theme of the SEA. I love the sea. This was perfect for me. (and even here, when I'm not writing poetry, I managed to make that rhyme, sea see?)
We each had between 4-6 pages each, and I was the last participant, so I felt it was my job to 'fill in the blanks' to make sure every page was bursting with the salty-brine-whispers of the deep ocean; alive with mermaids and sirens and treasure. So I did:
My creative collaboration sisters were Vanessa, Julia, Kate and Katie. I even got a cute little paper-exchange all the way from Russia (with love - thanks again Kate!)
Our zine started off in Canada and ended up in South Korea, visiting the States, England, Scotland and Russia in between - a zine worthy of any ocean-going voyager, and such an exciting adventure through crafty hearts and hands, inspirations, interpretations, materials, techniques, influences and stories.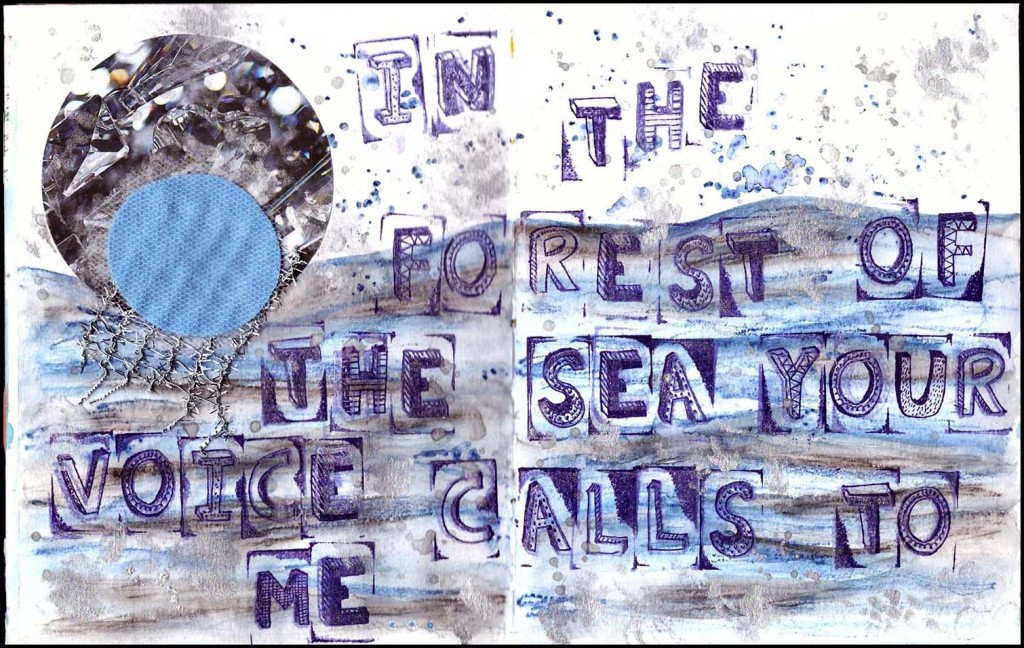 I couldn't stop thinking about the deep blue waters where danger and silence lurk, sharks and stirrings and mermaids and jellyfish; echoes reverberating on waves and the moon reflecting on water.
It was the Super (Blood) Moon while I was in possession of the zine, marathon-ing through my pages, and perhaps that influenced me when I wrote ' we're all just tiny flames floating in the embers of the sea'?
I wanted to convey the sense of the texture of water - soft, shiny, smooth and slippery one minute, rough and tumbled the next. Tides changing. Sea changes. Torn edges like waves rippling over the shore and the moon over-seeing it all...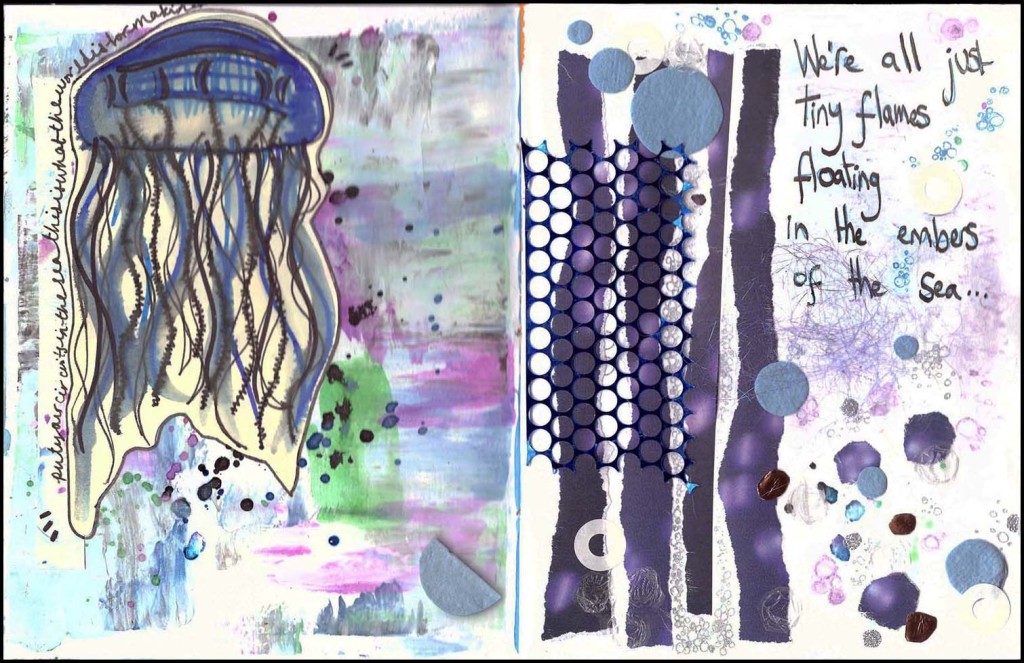 I used bubble wrap and textured paper and a beautiful shot-film textile called 'angelica' in a sublime lilac-blue that calls to mind the iridescence of the sea perhaps at sunrise in a foreign clime?
The texture doesn't come through so well here, but in the real-life zine hopefully it does. And the deep blue of the sequin cut-out makes me think of fishing nets on the surface of the sea. I got it in Mexico where I swam in beautiful, serene cenotes like something from a dream.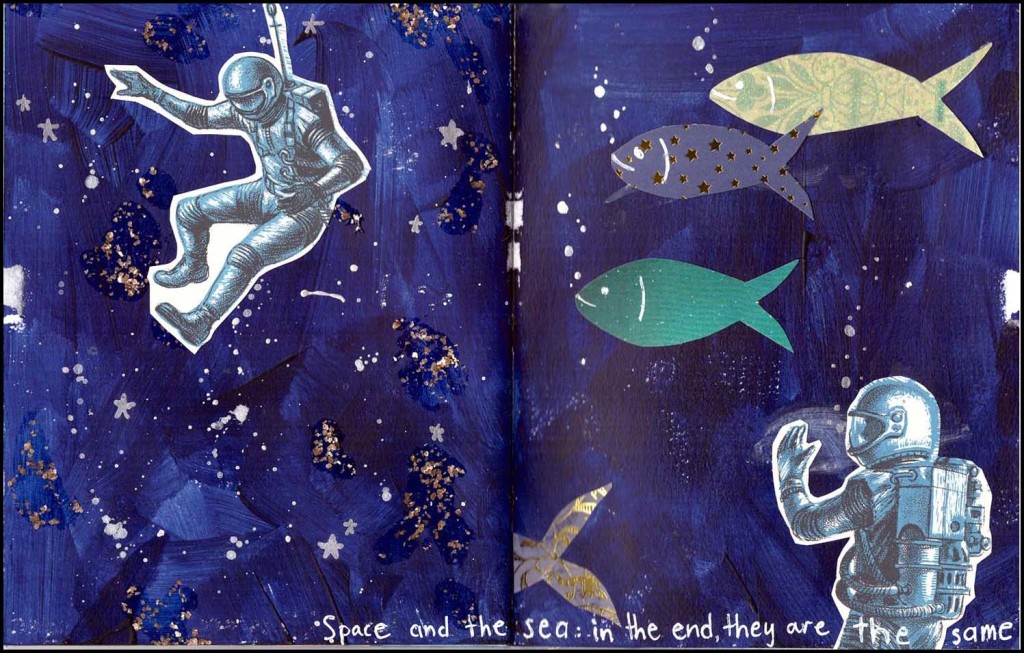 I was in awe of the work of the others and at first, a bit terrified of messing it up, of damaging the pages that weren't mine, of spilling something on them, gluing everything together and having to rip pages out.
But then, I just let the magic of the sea flow through me, through the little stash of papers and ideas that I'd been squirreling away and in the end I couldn't fill those pages fast enough.
The final, lucky recipient was Lauren, co-creator of the Get Messy group.
What a surprise she got when she received this super-special-international-snail-mail (and what a relief for us all after a nail-biting fortnight of waiting, because: how long would it take? Should it take? Would it arrive in one piece?)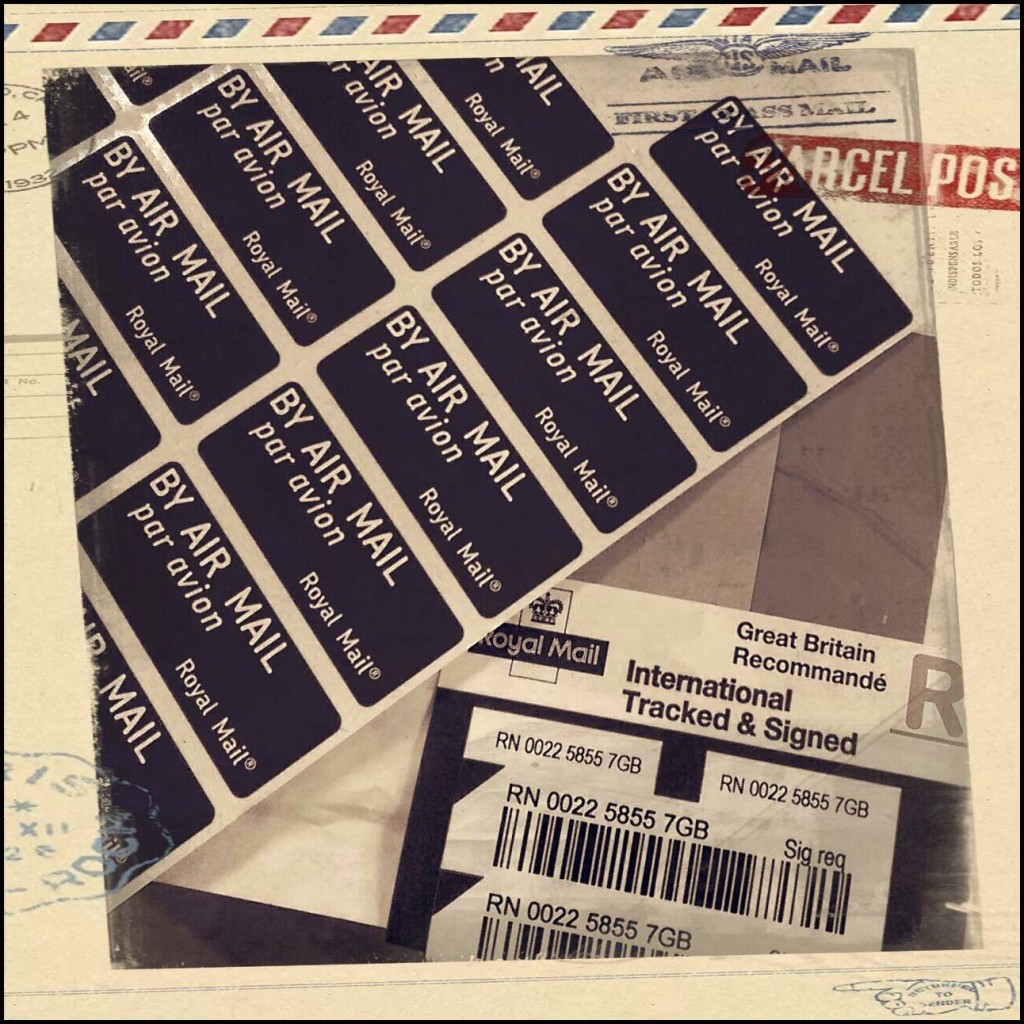 It did arrive, and now you can view the full Flipagram version that Julia cleverly created for us. Isn't it amaZINE?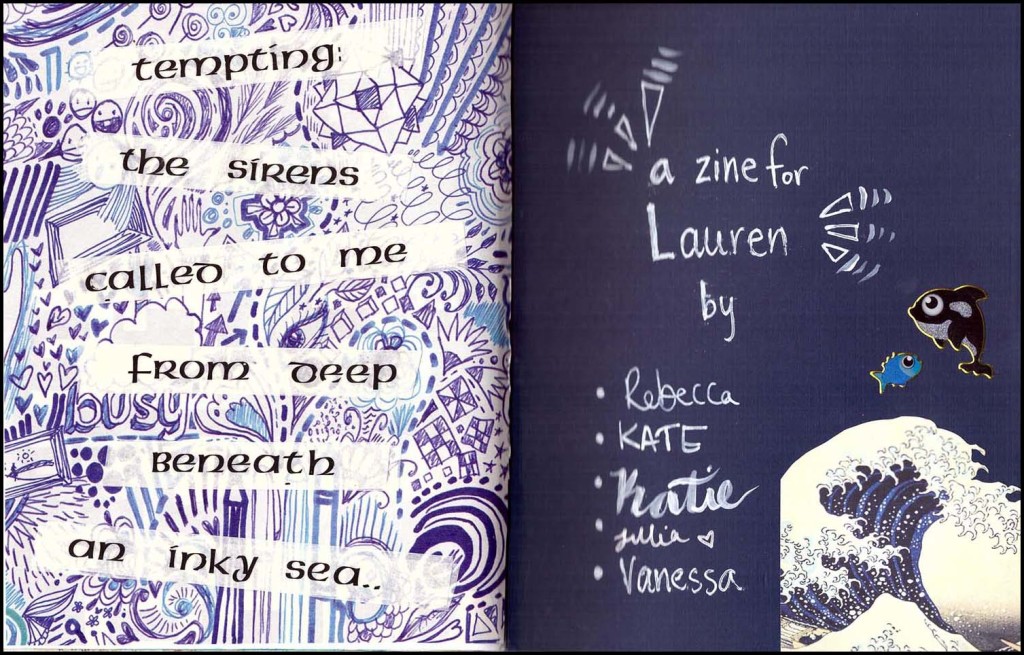 So why don't you...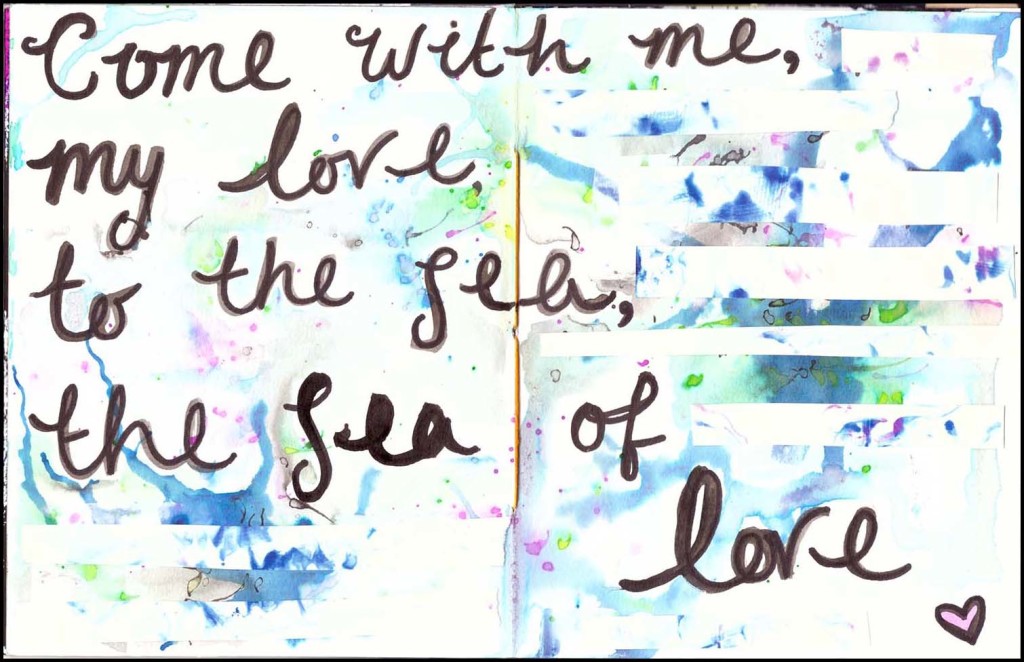 Come with me my love, to the sea, the sea of love <3"